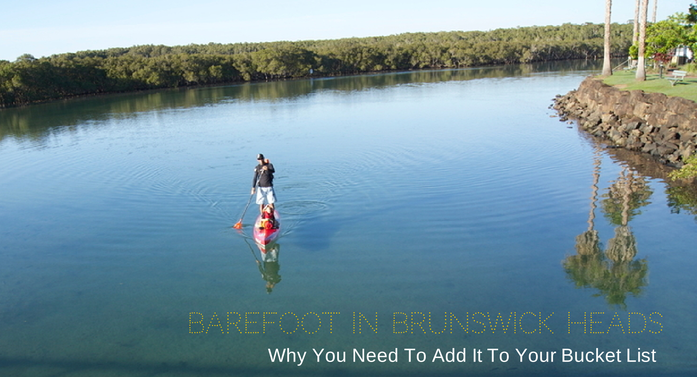 Have you ever dreamt of a living by a crystal clear river in a tranquil, picture-postcard town surrounded by lush, rolling hills? Sprinkle the freshest organic produce, convivial locals and you have just arrived in Brunswick Heads, Northern NSW.
We have been to Bruns (how the locals call it) 4 times now, and each time has been even more marvellous than the previous one. Bruns is a little seaside town of about 1,600 people in Northern NSW, a quick 1h drive from the Gold Coast, north of Byron Bay. For some odd reason, it isn't very 'touristy' and it is one of the reasons that makes it wonderful. Visitors are mainly families, friendly grey nomads and those enjoying the water. The river is tidal and very shallow which makes it well-suited for swimming with young children and the esplanade offers a suite of quality playgrounds, picnic tables, BBQ and shaded grass areas.
How long should you spend in Brunswick Heads
We could move to Brunswick Heads and spend the rest of our lives there… However, if you are holidaying we recommend you spend at least 2 to 3 nights in town to give you sufficient time to experience the immediate surroundings such as the river, the beaches, the alternative shops and simply relax and take it all in.
If you aren't planning on visiting any of the other areas of Northern NSW you can easily use Bruns as a base and spend 2 weeks in the region.
Experience the river
The river truly is what makes Bruns one of our favourite place in Australia. Not only is it sandy and shallow, it is also crystal clear and so inviting.
Have a spash, a swim, a paddleboard or a kayak. If you don't own one talk to Roy at the surf shop next to the Footbridge cafe or grab a rental from the 'boat' on the riverfront, right by the car bridge.
Here is an aerial video of the river: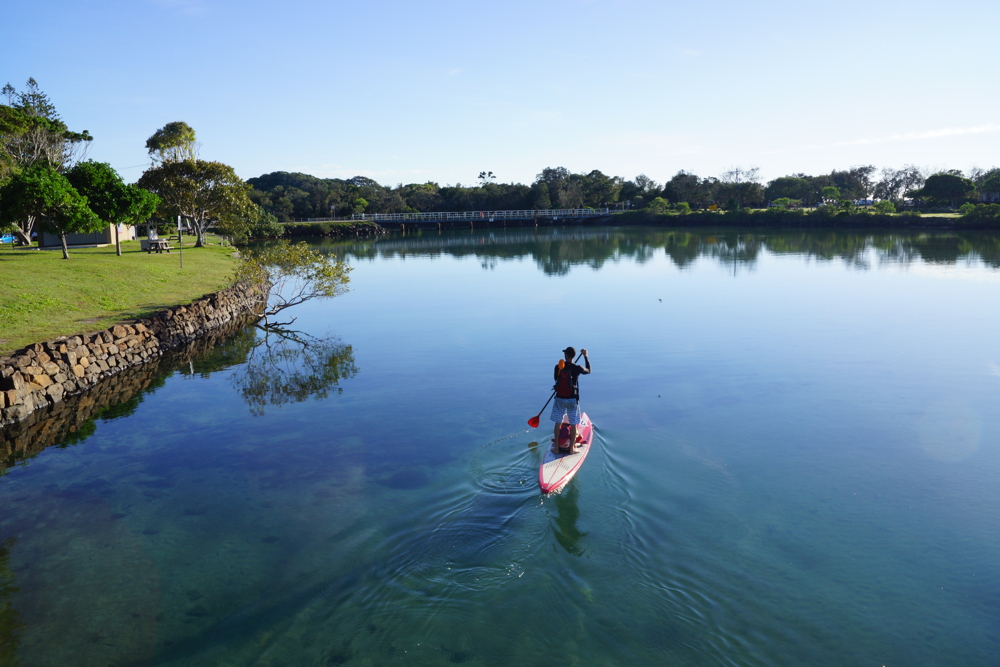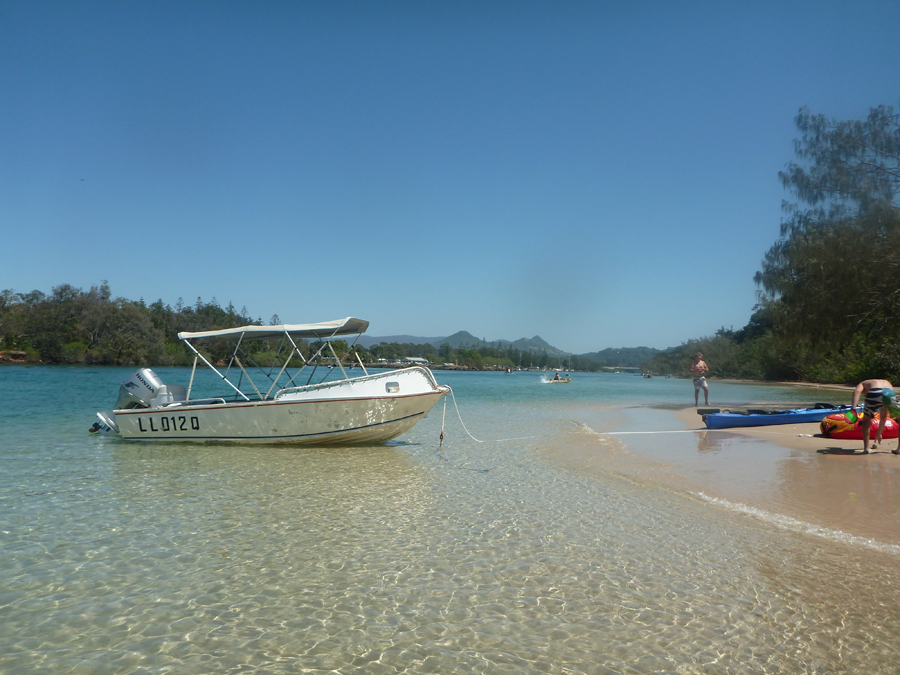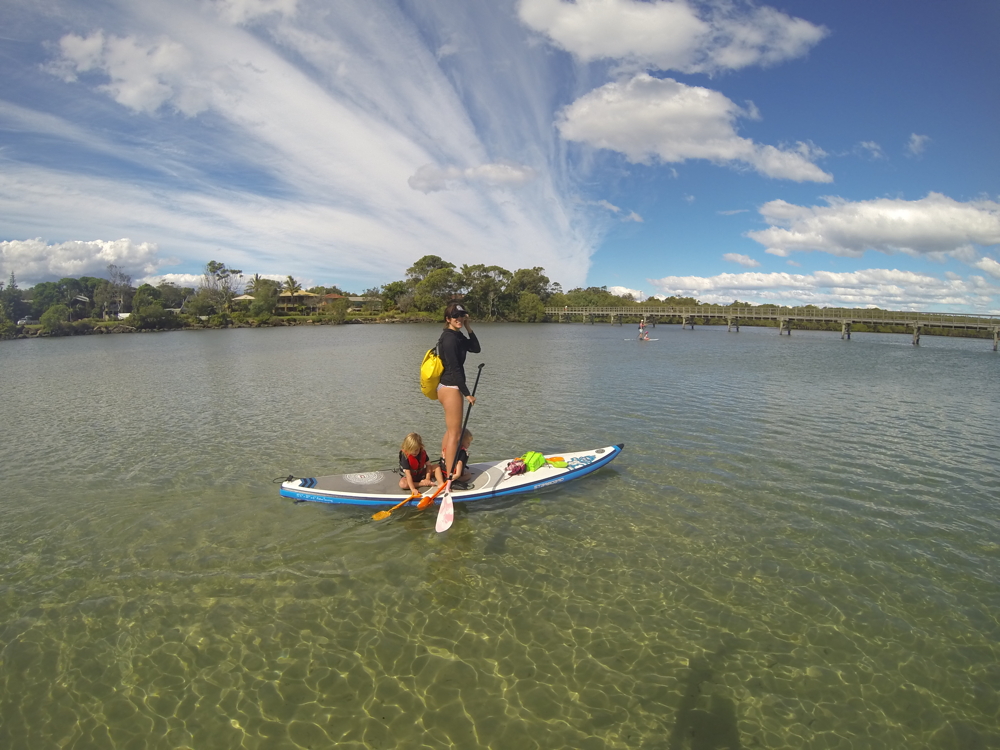 Cross the river on the Footbridge (Map C) to access the surf beaches! The Footbridge was built in 1937 to facilitate access to the beach and is one of the icons of Brunswick Heads.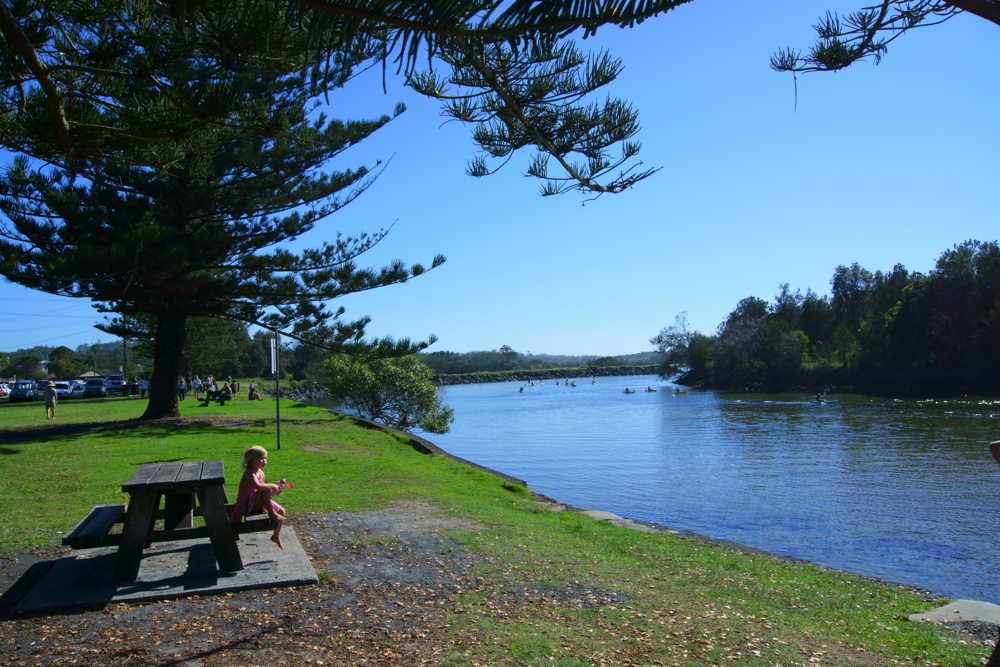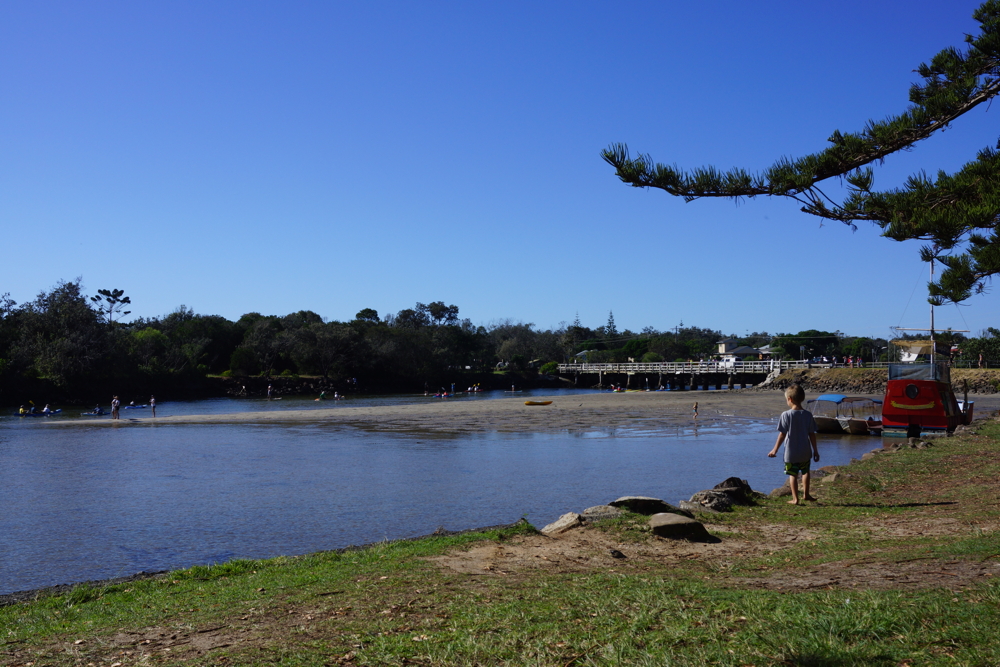 If balance is one of your skills, grab your paddleboard, your favourite recliner and beer and go say G'day to the pelicans.

Sample the local organic delights (Map B)
Are you after river-views instead of river-fun? Then walk 20 meters across the grassy area to the riverfront Footbridge Cafe. Owned by Canadian-born Cam, the relaxing cafe is a delight for the eyes, the soul and the tummy.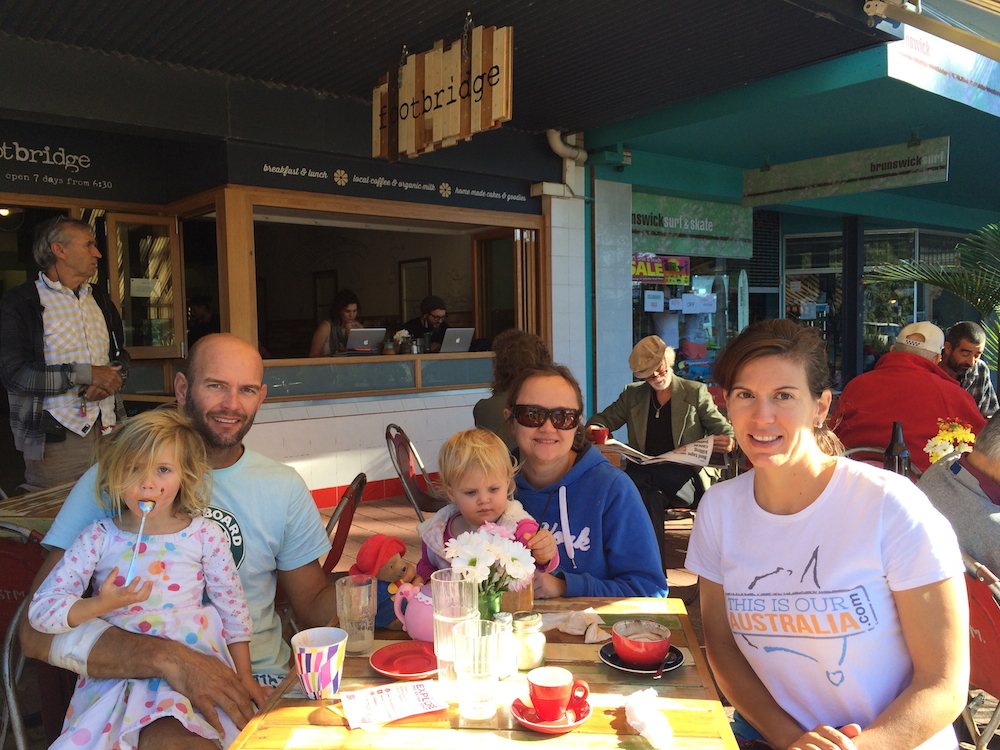 Foodbridge Cafe is also one of those rare cafes and restaurants that have invested in family comfort and set up a great kids play area.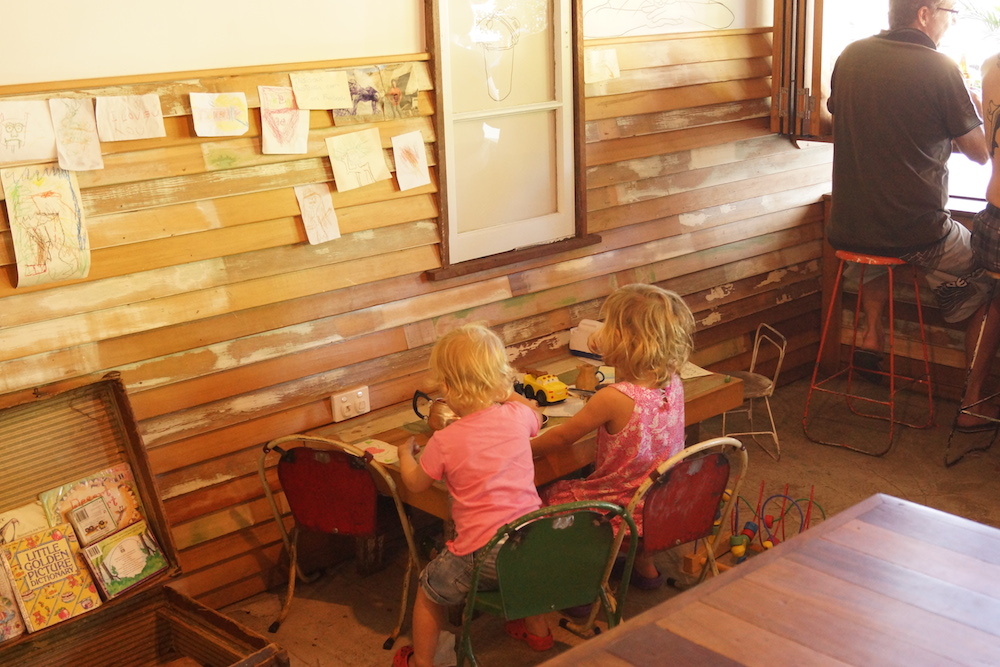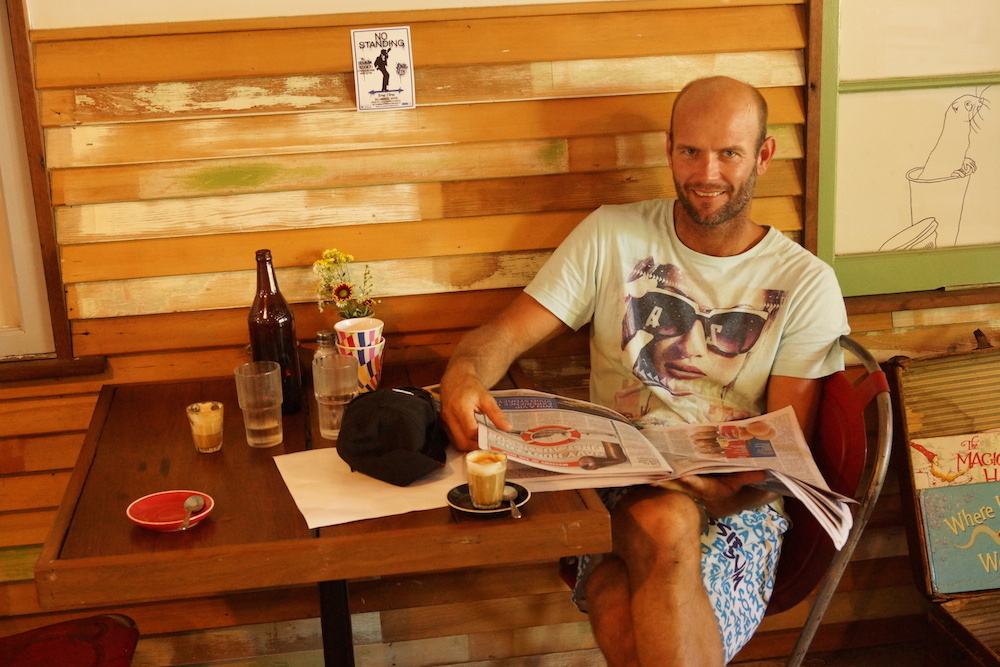 When was the last time you walked in a coffee shop and they remembered your whole family's coffee order AND the coffee tasted just how it should?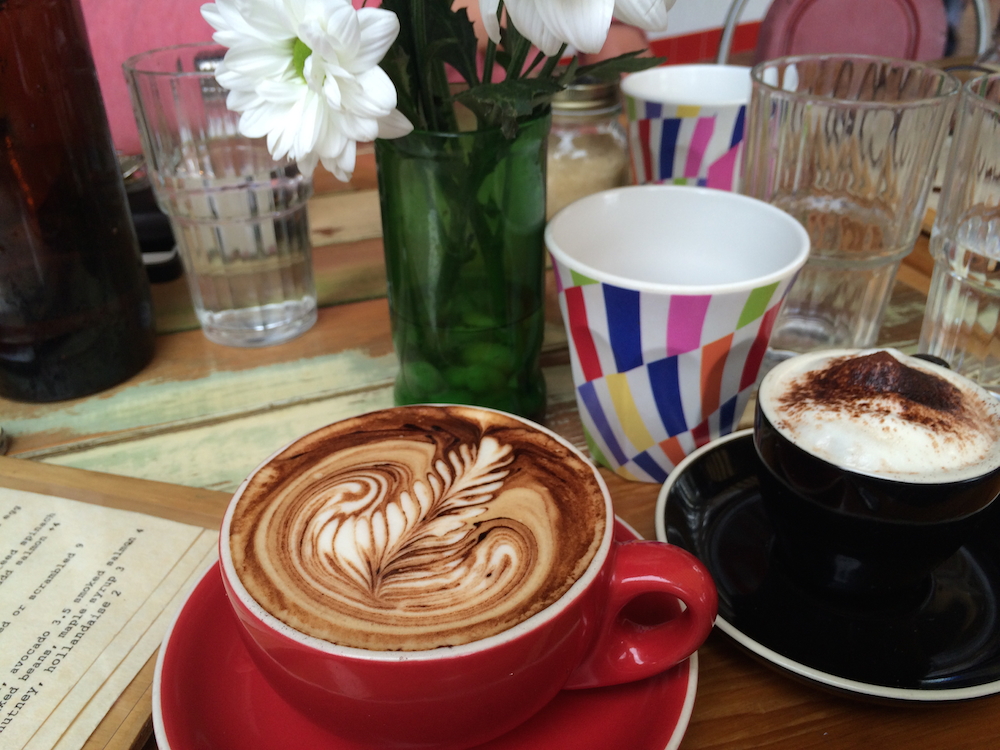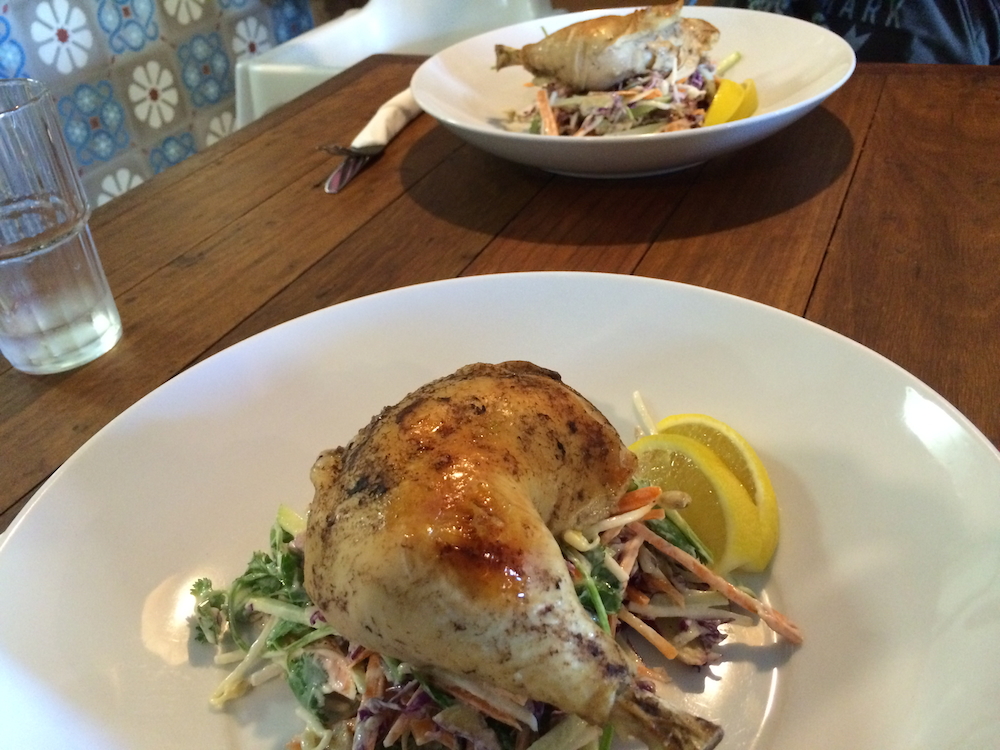 Don't forget the push bike!
We are so glad we took our push bikes with us – it is such a 'slow' way to discover the towns and regions we visit. Brunswick Heads is flat and well-suited to bikes with paths all along the river and wide streets in town. We have got 2 baskets that clip and unclip to the front of our bikes which are great for grocery shopping and picnics!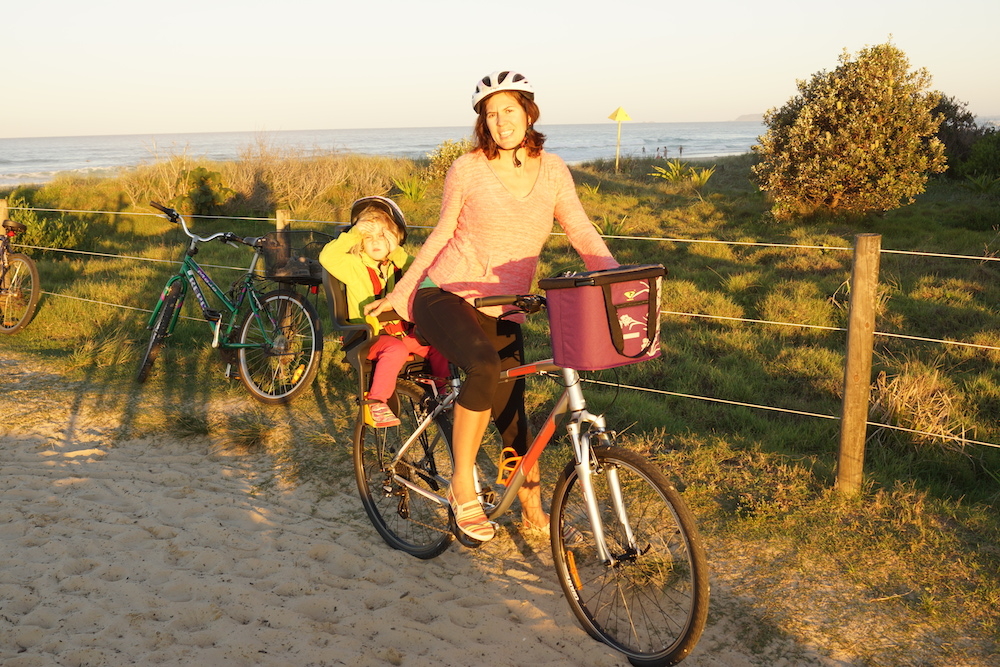 Stay in town at Terrace Reserve Holiday Park
There are 3 caravan parks in town, all run by North Coast Holiday Parks. Our favourite one is Terrace Reserve, right near the main waterfront cafes and with direct access to the river. It is a tidy park, with plenty of clean amenities. It is a very loooong park – ask for a site in the riverfront area located between the 2 amenities block and the holiday rentals.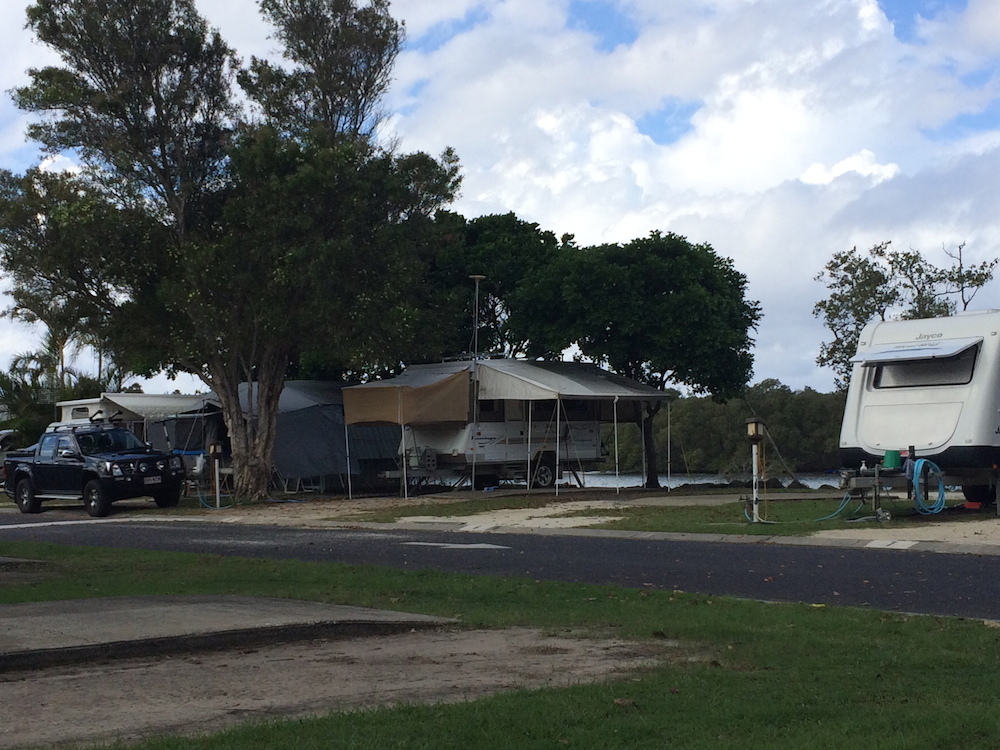 As the park is located right by the river, we only have a few meters to walk our paddleboards to the water. Everyone is intrigued and interested by our inflatable Starboard SUPs. Here is Warrick providing advice to 2 park guests who couldn't believe how stable they were.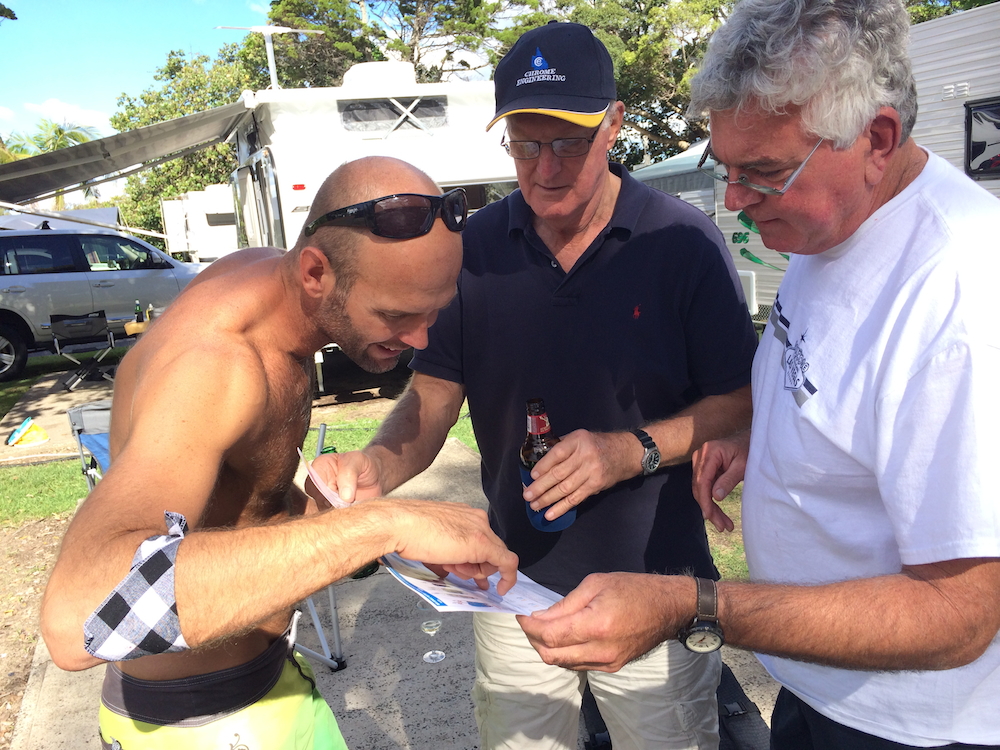 The park has got lots of trees and shaded areas.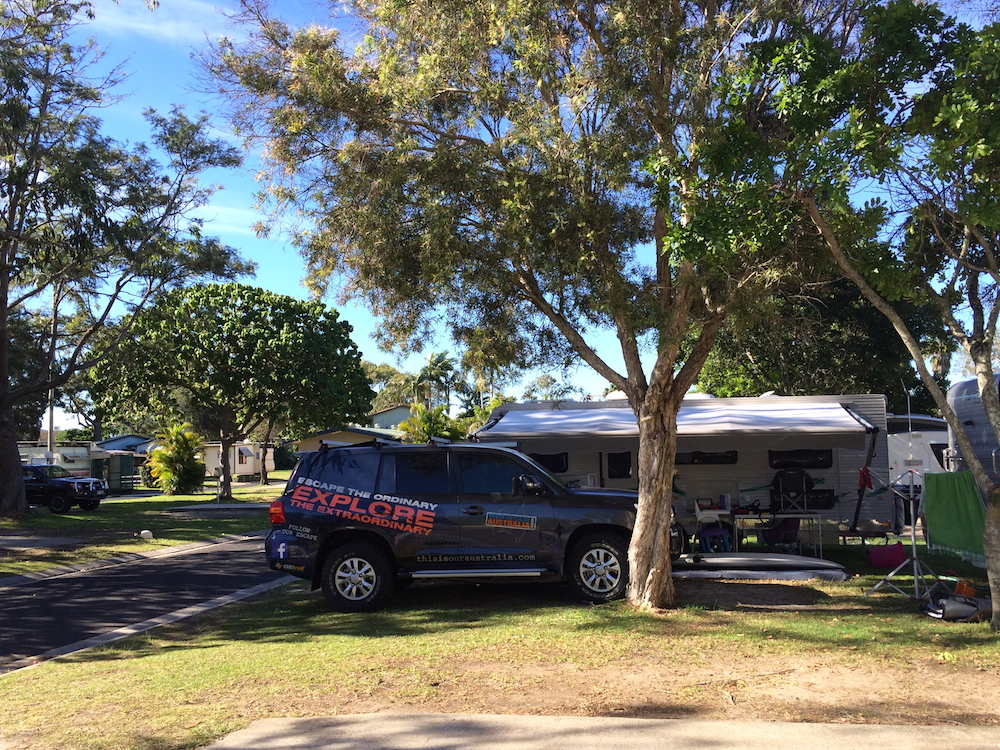 Experience a real Gelato (Map D)
We only discovered Bernardis on our last visit. It is located in one of the main streets, right next to the organic shop. Since they make their own gelati they remain very affordable and we manage to have once a day. Celeste's favourite flavour is raspberry and gosh were we glad she was actually wearing a pink top that day!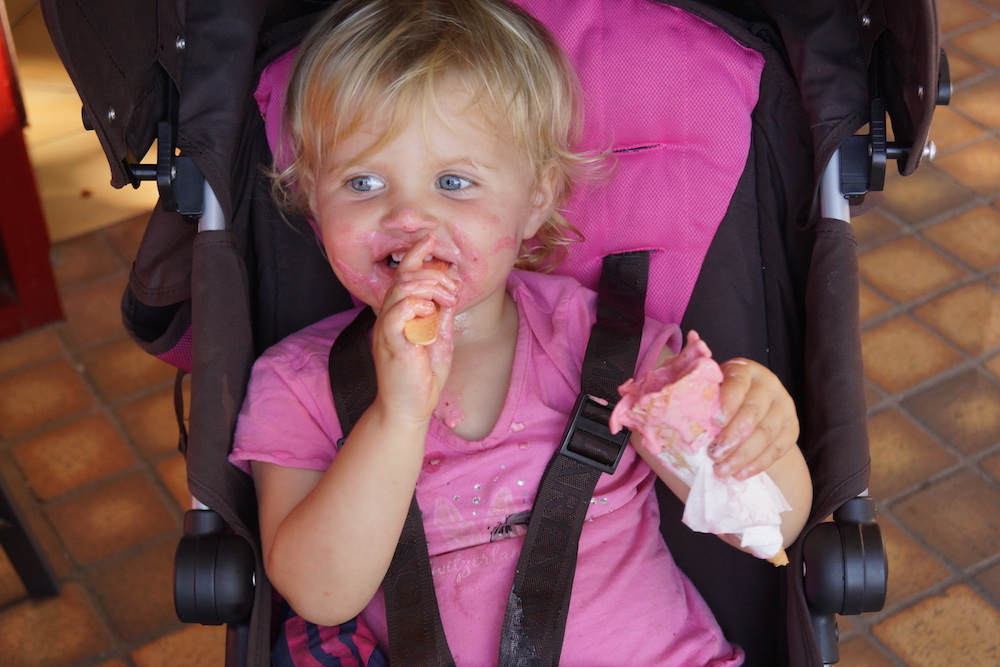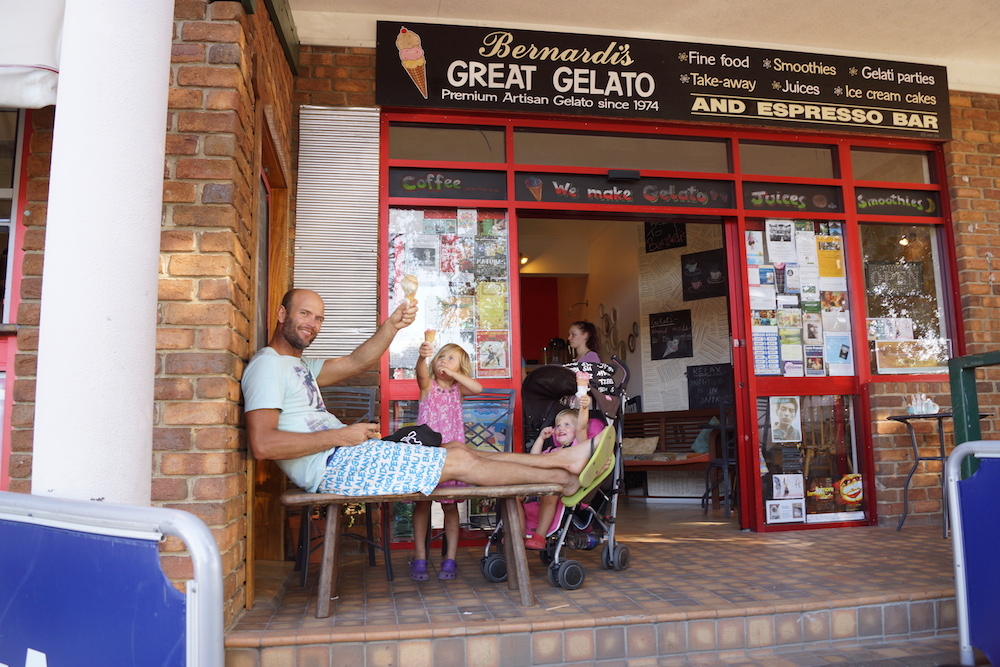 Visit Hotel Brunswick (Map A)
The Brunswick Heads pub is located right by the car bridge and has a huge outdoor area as well as a stage for live bands. Make sure you stop to enjoy an afternoon drink or organise for a babysitter so you can enjoy a night out! Alternatively, it has a small outdoor area for children (a rowing boat).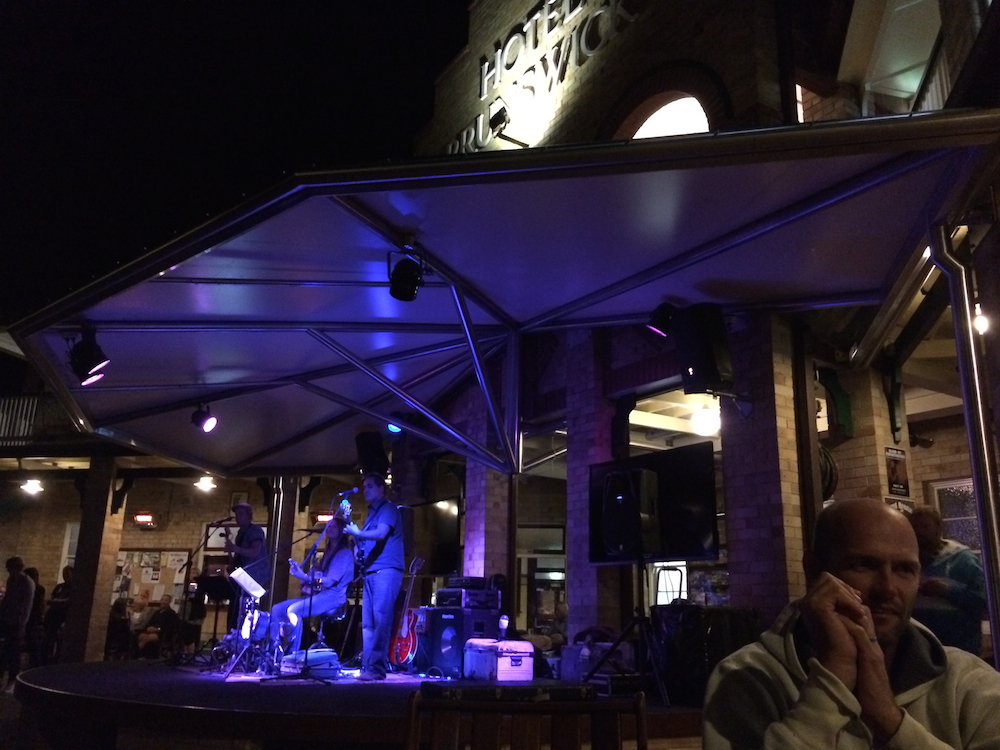 Mullum to Bruns Paddle
Once a year, the town of Brunswick Heads hosts the Mullumbimby to Brunswick Heads paddle. Here is an aerial shot of the finish line! Quite iconic isn't it?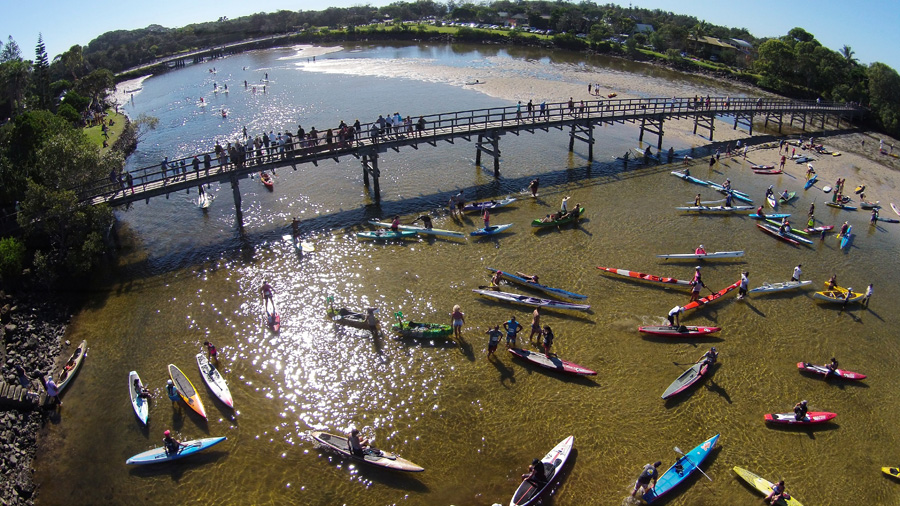 Warrick completed the 15km stretch in just over 1h17min. Not bad for his first race!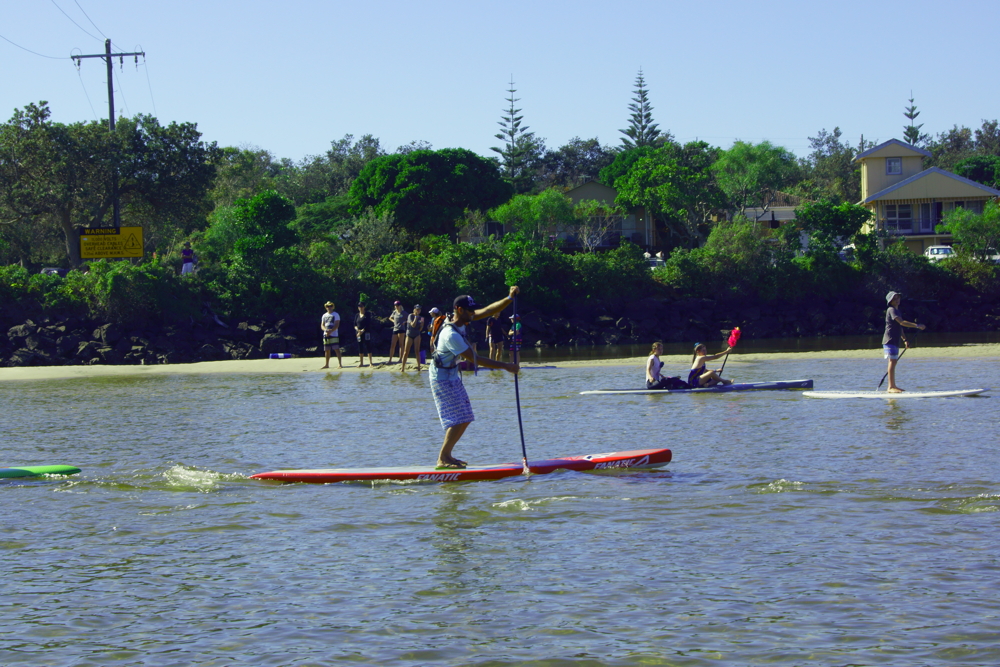 Have you been to Brunswick Heads? Could you share some of your favourite attractions and activities?