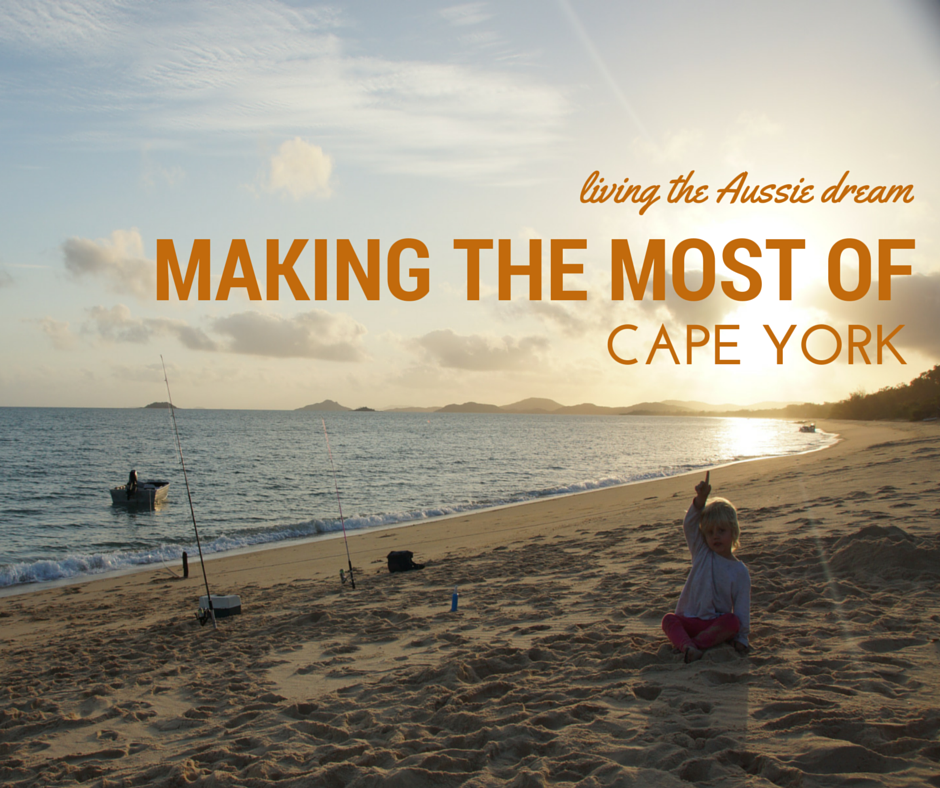 We were warned many times by those who had 'been'; red dust would suddenly jump at me out of nowhere, months – even years – down the track. They were right.
Cape York is a once in a lifetime odyssey of dirt, dust, corrugation and forbidden aqua-blue ocean. Some dream about it for years and have got the 4×4 tracks all planned out. Others, like us,  just go with the flow and take it day by day.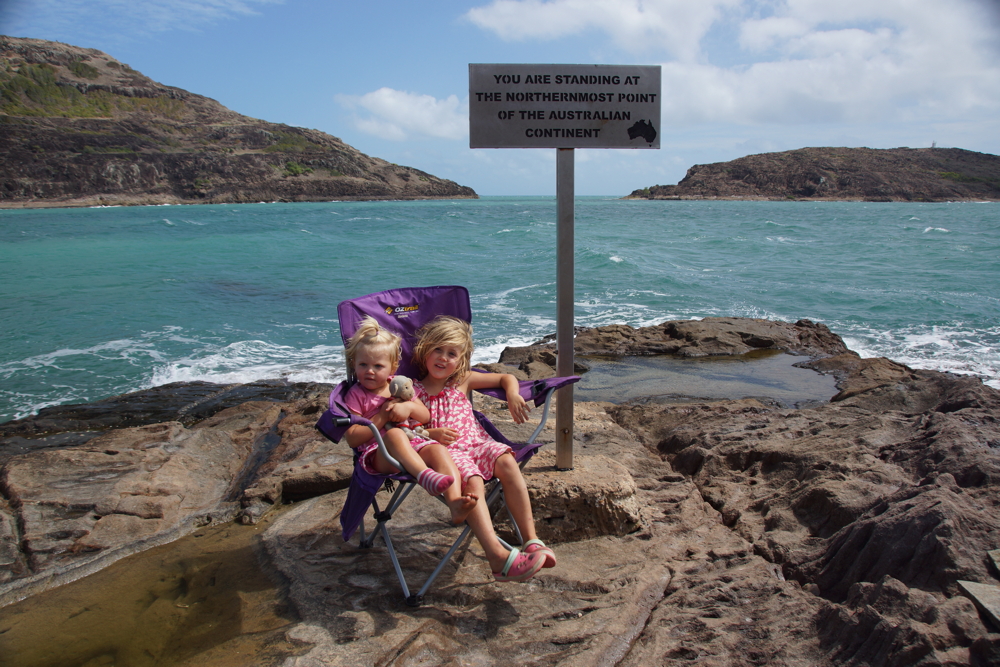 Our Cape York expedition took place in September 2014, a few weeks before the start of the wet season. Despite people towing their caravans all the way to the northernmost tip of Australia, we had decided to give our van a break and leave it in Lakelands, FNQ. Our humble abode for the next 3 weeks was going to be our OZtrail tent, air mattresses and sleeping bags.
We have so many great memories of Cape York. Choosing the highlights to share with you in this article has been difficult (and has literally taken weeks). There is a lot of info online about where to go and what to do so we won't bore you with that. Instead, we are sharing our learnings so that your future Cape York adventure is just a little more extraordinary.
Tent, campertrailer, rooftop tent, Wicked Van, tipi?
After hours on the road, setting up camp is often the second highlight of the day (you guessed it, the first is that nice cold drink!). Not only have we enjoyed each spot we set up camp at, we also loved checking out other peoples' setups. There were camper trailers all sorts, roof-top tents in all flavours and we even saw a beaten up Wicked van that made it to the outskirts of Weipa where it is probably still rusting away.
Our humble abode was very simple yet very quick to pack and unpack: our trusted OzTrail tent! Simple but oh-so-effective. Most of the set ups we saw were roof top tents. Whilst it is great to be above ground if for some reason a croc was to take a night walk through the campground, the main issue (that isn't obvious straight away) is that you need to pack up every time you want to use your car! Since we often spent more than one night in a spot a tent was the perfect option for our family. Read more about our OZtrail Tourer 9 Plus tent here.
We also used our side awning and mesh room as a tent – just because we could. It's super easy to set up and the sunrise is amazing! The mesh room is so light (3kg) and slept our whole family or 2 adults and 2 kids. Read more about it here.
What type of vehicle will make it up to the northernmost tip of Australia?
We have seen a number of vehicles that seemed to have everything including the kitchen sink loaded onto the roof. Leaving Fruitbat Falls we followed a camper bus over the corrugations watching as their cable-tied on roof basket and roof racks swayed like a latin dancer's hips. Unfortunately they didn't have a radio so we couldn't let them know they were about to lose their precious cargo.
One standout group of explorers that we crossed paths with on many occasions throughout Cape York and through the Overland Telegraph Track were a team of 3 Germans and one Captain-Cook-like adventurer Czech bloke named Alesh – who – in conversation had told us that he had once purchased a 125cc 2-stroke 'rice rocket' motorcycle in China and rode it all the way back to the Czech republic.
The 1990's model Pajero the Germans had taken to the Cape was stock standard without a snorkel. They took it through the Tele track (OTT), through Gunshot Creek yet decided to backtrack at one of the deepest crossing, between Fruit Bat and Elliot Falls. Each time we met these guys their faces were beaming with happiness and their talk was always leading onto how much fun and adventure they were having at the Cape. Gear doesn't mater as long as you have a McGyver on board.
Our ride was our trusted Landcruiser 200 series kitted up with Cooper Tires ST Maxx, safari snorkel, Powerful 4×4 Bull Bar and Tough Dog suspension.
Do you need a GPS or are maps sufficient?
We couldn't recommend our Hema HN7 enough. Not only is it a great turn-by-turn GPS but it also comes with an off road functionality.  The off road GPS is a must have when you are in the outback: all the Hema Maps are loaded on the device and your position is superimposed on top of the map. We also had our trusted Camps 7 book with us to have a bird's eye view. So the Camps7 and HN7 is the perfect combo! Read more about the HN7 here.
Tele-track misconceptions
When you google Cape York most of the info you will find is about the telegraph track and Gunshot creek. It might be hard to picture it if you have never been but the OTT is only a small part of he trip up to the Tip of Australia. There are many km of corrugated roads all the way to Bramwell junction, where the OTT starts (should we you decide to take it). YouTube videos of gunshot and photos will generally scare any wife away. However, the crossings are only few and far between and the majority of the track is just a lovely ridge through the Australian bush.
Over 5 minutes you could be driving on snow-white sand amongst hundreds of 'black boys' trees and hit red dirt in what looks like the jungle. There are plenty of areas to pull over and camp on the track as well as photo opportunites with the remnants of the telegraph poles!
Once word of advice – if you are to tackle the OTT and the creek crossings don't fight the rutts: ride them. things will go much smoother that way. We learnt this from our friend Max.
Corrugation – how to minimise the impact on your body
We didn't know what to expect we once we crossed that line from bitumen to corrugations in Laura, about 1h from where we left. We thought it might be a good idea to take the corrugations at a slower pace (50km) but wondered why everyone coming in the other direction was flying through them so fast. Clearly we had our L's on! We soon figured out that the best way to tackle the corrugations was to go fast so you are skipping along the top rather than roller-coastering each and every one of them. Everything will shake anyway.
Look for the better terrain on the side of the road
When on the main road (called the Peninsula Development Road to Weipa and then OTT Bypass to the Jardine River crossing) you will often see tracks to the side. These are generally softer and less corrugated so use them when you can!
Slow down on the corners
Slow down on the corners – the corrugations will give you oversteer and understeer and you and your rig will end up amongst the cows grazing nearby.
We found that some of the recommended cornering speeds were way to high for our liking. On the way to Chilli beach there will be lots of corners with a recommended speed of 60km – we found ourselves doing 30km and that was plenty fast enough.
Slow down before and after the bitumen
There are quite a few km of random bitumen between Laura and Coen (your back will love it). Whilst you may be super eager to get your wheels onto it as soon as possible, make sure you slow down 10m prior to the bitumen and at the end. There are dips, huge potholes and big rocks sticking out.
Cows Rule The Cape
The roads to the cape aren't fenced and cows don't live in closed paddocks – they roam free and often hang out by the side of the road and cross the road. As you will be doing about 80-100km on the corrugated roads make sure you keep a lookout as far as you can and slow down if you see any animal. We didn't hit any but had a few close calls. You see some spots in the distance but they are hard to distinguish, especially if a road train has just been past.
Best camping spots
As a rule of thumb we recommend you use Camps 7 and Wiki Camps to locate the best campgrounds. You will find a great caravan park in Weipa (with a pool!) as well as a few options up near the Cape at the very top of Australia.
Our favourite spots were the creek to the north of Coen, Canal Creek, Chili Beach and Punsand Bay (which had a pool and an awesome restaurant/bar).
If you are thinking of staying in National Parks you need to be aware that they have just rolled out compulsory online bookings. Why have they done so in far north Queensland where there is no internet will always remain a mystery. If you want to book you will either need to have extraordinary telepathic powers or need to plan well in advance (which, let me tell you, you won't since you won't know where you will be at what stage). The other option is to locate the Ranger's HQ and make a booking using their satellite internet.
Make friends, it's much more fun!
Palm Creek is the first crossing of the OTT. It is everything a 4×4 enthusiast has dreamt about for years. It is also your wife's biggest nightmare. It took us about 5 min to get to Palm Creek from our hearty breakfast at Bramwell Junction. We got out of our car and started looking for the 'chicken track'. Instead, we found Max, his wife Katie and their beautiful daughters. Thank goodness we met those guys because there was no chicken track! Two minutes later appeared Mark, Tony and their 2 kids who were just as eager as us to meet Mad Max who guided us all safely all the way to Bamaga.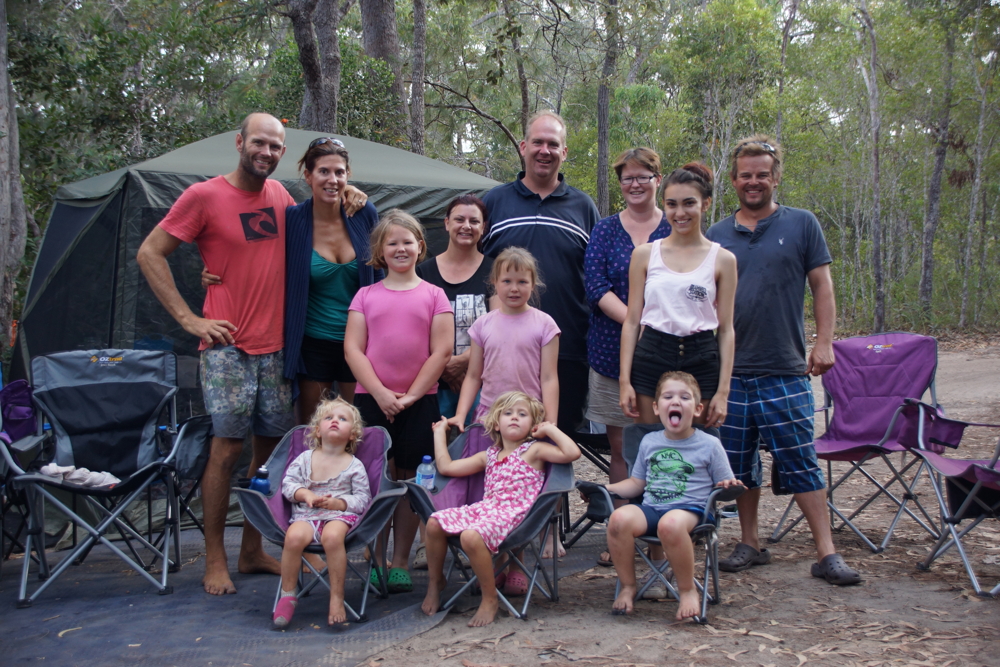 It was reassuring to know that we were travelling the OTT as a convoy as none of us knew what to expect. Max's experience and Mark's substantial amount of recovery equipment which only excluded the kitchen sink. We made fun of Mark's sand anchor but let me tell you we wished we had one when we got bogged on Sandbar beach north of Newcastle the other day!
We spent a week with those guys and the camaraderie and friendships that were forgets will never be forgotten.
So don't be shy, grab that beer and go say hi to your camping neighbours. You might make life-long friends.
The best waterfalls
We absolutely loved Elliot Falls, Twin Falls and Fruitbat Falls. Fruitbat falls is located on the main road stretch between the south and the north Tele track (so you don't need to go on the tele track to reach them). We did them on the way down from the Cape.
Twin Falls and Fruitbat are on the northern track of the Tele track and if you don't have a snorkel on the car make sure you access them from the north.
However, the waterfalls that stole our heart were Trevethan Falls located 1h south of Cooktown, not far from the Lion's Den pub.
Lastly, when you cross Sam's creek (north of Canal Creek) make sure you park your car right after the crossing and cross the creek again on foot. On your left will be a small walking track that will take you to another stunning private waterfall.
One for the ladies…
On the main highway, a good hour past Cohen you will find the southbound quarantine inspection station. Make sure you stop and have a chat to the guys and visit their museum. These guys also have the cleanest funny of the whole peninsula so if nature calls this is the place to stop.
Did you enjoy this article? Are there any tips you can share with our readers about Cape York?