When you are travelling with 2 young children, a half-day bushwalk sounds as attractive as a bull ant bite on the bum. Unfortunately, the only way to reach Freycinet's Wineglass Bay is either by doning your hiking boots or getting there by sea. Not being to keen to carry 20kg each on our backs for 3h, we opted to visit Wineglass bay by boat, with Wineglass Bay Cruises. And we are so glad we did!
The very comfortable catamaran left Coles Bay at 10am and returned at 2pm. Duncan our skipper (who also happens to be the business owner) took us along the peninsula and into Schouten passage.
I hadn't realised when we booked but Wineglass Bay Cruises is so much more than Wineglass Bay! The journey to the Bay is just (if not more) amazing than Wineglass Bay itself. Tasmania literally put on the best 'David Attenborough' moment for us.
About 45 min into the journey from Coles Bay, we were cruising amongst a pod of over 100 dolphins! They were following the boat and having an absolute blast. We see numerous dolphins in our tinnie but seeing so many at once was out of this world.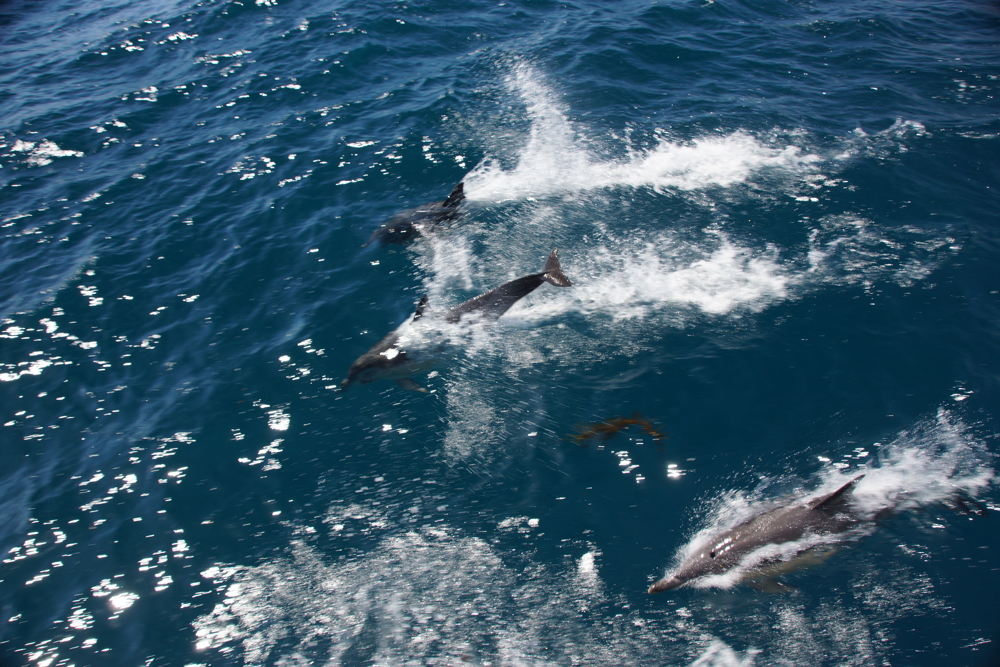 We then reached a colony of endangered Australian seals putting on a show jumping into the water. Charlotte and Celeste said it was so much more fun to see them there than at Taronga Zoo.
Upon boarding the vessel you are provided with a one pager with pictures of all the animals you are likely to see on the cruise. Thanks to the animal cheat sheet and our skipper's commenrary, we quickly identified sea eagles and white Albatros swimming by the boat. It truly was a magical experience.
It took us about 1.45h to reach Wineglass bay. Here is an aerial video we took of the bay.
We anchored for an amazing Tasmanian-grown lunch. The bento box of local produce is prepared by the five start Freycinet lodge and included Salmon, cold meats, cheeses and even rocky road from the Anvers chocolate house in Launceston. Even the lettuce was Tassie-grown!
Being on a large vessel was also fabulous for the kids who would walk around, inside and out. They really enjoyed sitting at the front, wildlife spotting.
You can book your cruise online on www.wineglassbaycruises.com. Owners Irene and Duncan have owned the business for the past 15 years and are the best hosts to show you the magnificent region. Their customer service is A+!
Cost is $130 per adult and $85 per child (4-14). This includes the 4h cruise and lunch.
A bar is also available on board for you to purchase drinks.
Make sure you bring your water on board.