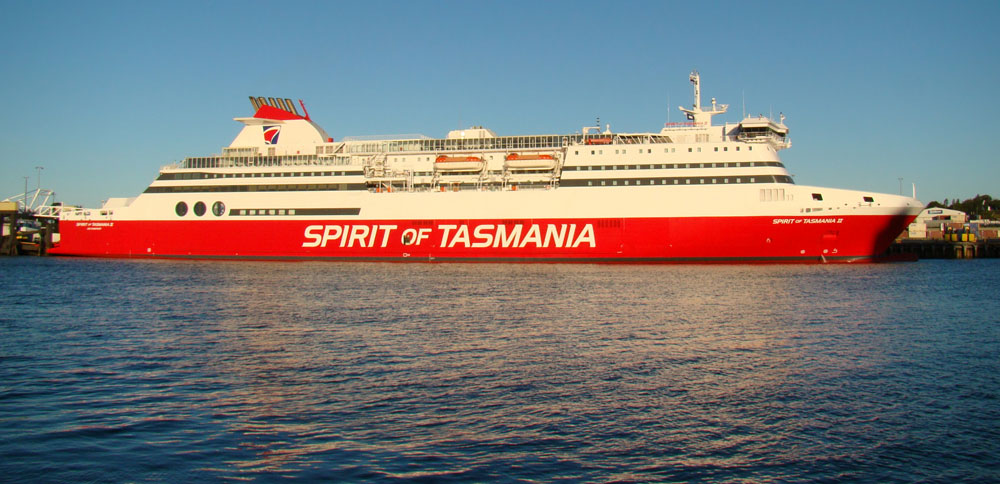 Two thousand dollars? For that price you could have flown over and rented a motorhome.
Those are the kind of answers we get when we tell people we almost had to remortgage the house to go and visit Australia's southernmost state.
Renting a motorhome would have been a fabulous solution for a honeymooning couple… but not for a family travelling Australia towing 2 munchkins, one 3.76 meter tinnie, 2 inflatable paddle boards, 3 boogie boards and 4 bikes! You see, us caravanners love travelling with our toys, mod cons and pillow-topped queen size beds. Why on earth would we leave all those toys on the mainland when Tassie screams the word adventure in capitals?
Book early and save
When you want to take your caravan on the Spirit of Tasmania you need to book. The online booking process was pretty simple – we booked 6 months in advance. You need to answer many questions such as the exact model of your car (for length) and you need to know the exact length of your van as it is required to calculate the price.
Make sure don't try and complete the online booking form from anything smaller than an iPad – the site isn't very mobile friendly and you might get a heart attack before even seeing the final cost.
By booking in advance I know for a fact that we saved about $700 dollars and were able to pretty much select any date ( I just tried to book online for the same week and the price came up to $2,700 dollars). That is for a return ticket.
Note: if you aren't ready to book just yet make sure you subscribe to their newsletter so you receive any of the specials.
Day or overnight trip?
As we are travelling during the busy period we had the choice between a day or overnight trip. Having to come up with 12h of entertainment for the girls sounded much worse than tackling the Gold Coast theme parks on a busy summer day so we ticked the 'overnight trip' box right away.
Cabin vs ocean recliners?
That's an easy one… Have you have ever travelled with young kids on a long haul flight? If someone gave you an option to swap the cattle class seats for a cabin all to yourselves, with fully horizontal beds and told you that the price difference was just over one hundred dollars, would you hesitate?
No. I didn't either.
At the time of booking price difference between a recliner and a cabin was $15 per person – however we noticed it could be less or more depending on the availability.
Total cost
Here is what we paid to get our caravan onto the Spirit of Tasmania from Melbourne to Devonport and return. Our van is 8.5m long. The total (van + car) is 13.57m. We paid $2,045 dollars, with our 5% BIG4 discount. We selected the Four Berth Cabin (standard not deluxe).
The most expensive part is getting the van across (unfortunately the cost isn't broken down).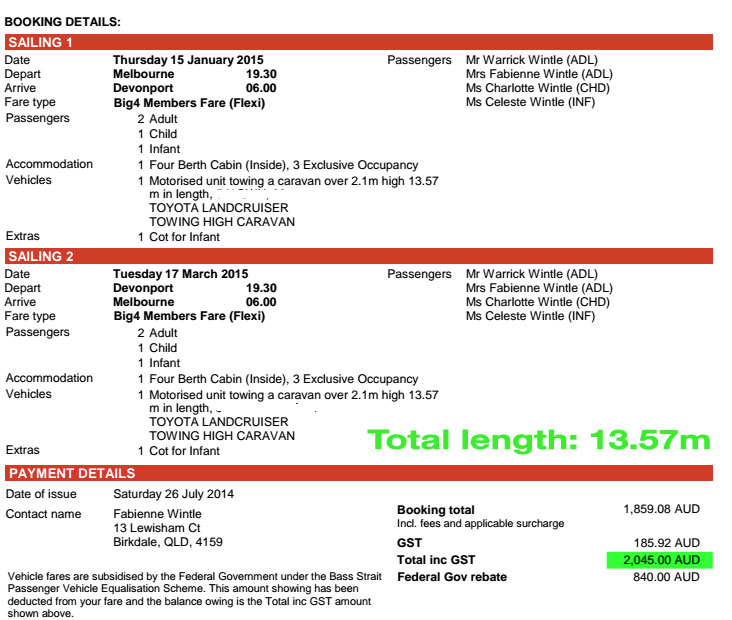 Save with your caravan park loyalty membership
Many families caravanning around Australia are a member of a caravan park loyalty club.
Our BIG4 membership card gave us 5% off the room booking but not off the car and the van. It also offered us the Flexi fare at the same price as the Spirit fare (this means free cancellations and free amendments). When we googled we also found out that 'Family parks' offers a 5% discount as well.
To access this discount you must first log into your caravan park loyalty club website and click the link to the Spirit of Tasmania (there isn't a coupon code that you can apply by first navigating to the Spirit of Tasmania's website)
Preparing for the trip on the Spirit of Tasmania
We didn't find much info about this online about how to prepare your caravan (and kids) for the journey on the Spirit of Tasmania. So we searched and searched on Facebook and other forums and here they are: the must-dos prior to prepare your caravan (and family) to get onto the Spirit of Tasmania.
Note: this applies to a Melbourne 7.30 pm departure but we expect it to be the same (except it may be easier to find a park) on the Tassie side
Getting there, parking and getting on board
First of all – how are you going to get to the Port of Melbourne?
Our caravan park even has it written on their park map. We know for a fact that we need to avoid Montague street as it has a low 3.00 meter bridge.
The spirit of Tasmania leaves from Station Pier, Waterfront place, Port Melbourne.
We stayed at the Melbourne BIG4 (highly recommended) and this is the route we took – GPS will want to send you down via the city but the streets are really narrow plus there is all the traffic, cyclists and trams. Motorway is much easier. Below is the map but you can download the whole printable itinerary here.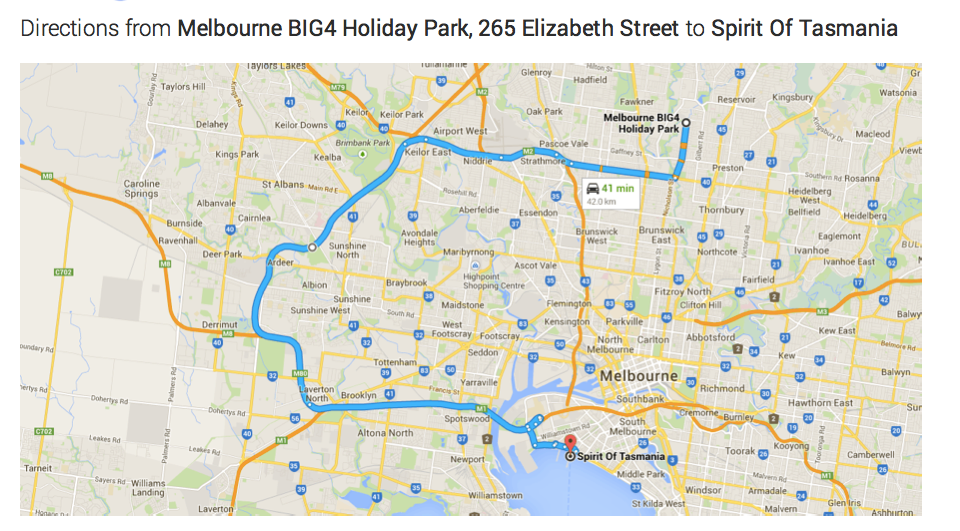 A week prior to your departure you will receive an automated email from the Spirit of Tasmania with a little info about parking and boarding times. However, some of the parking options don't apply to those town a caravan that can't fit in underground parking lots!
Boarding: the pier opens at 5pm (so you can get on the pier and wait) and loading/boarding starts at 6pm. However, we read that by the time your and your 8m long caravan reach the pier to wait for boarding it might be full… so you may need to do a few loops of the block.
When you arrived at station pier you will first be asked to go through Quarantine: they will get out of your car and open your boot, van to check fridge/freezer and any Engel/Waco portable fridge. They will also have a good look at your car and van. This is where you also hand over your butane BBQ bottles. Then you will be told to drive to the end of the pier, do a screaming u-turn (Warrick's words) and there will be 2 lanes (either side of a gate house). You are required to stop, show your paper or ticket confirmation email on your phone and they will hand your boarding passes and room key. Then you just queue up and wait your turn to be loaded.
Note that if you still have petrol/diesel that needs to be disposed of you will be directed to dump it once it is your turn to leave the queue and board (you will be directed to go straight, dump the fuel and then continue on your merry way to load your car/van into the ship).
You then drive your own car and van onto the loading bridge and board the ship from the front. 
Once your car is secure and parked in the hull of the ship, grab your gear, walk along the yellow line until you come to a set of big yellow doors with a big red button. Push the button, the doors will open and you will enter the world of the Spirit of Tasmania!
Parking: If you arrive early and the pier isn't open or full, the Spirit of Tasmania website states that there is paid parking in the area where parking meters (ticket machines) operate until midnight seven days a week. We think we may need a fair bit of luck to find  a 14m  long parking spot around the pier though. On the mororway to station pier (see itinerary above) there is a service station/McDonalds that is clearly indicated on the highway. You can stay there for 4h maximum for free and there are large drive-in spots to easily park your van. So if you are a bit early stop there on the way, that is what we did.
Preparing your caravan for the Spirit of Tasmania
I would have thought that the email reminder from the Spirit of Tasmania would have provided me with a link to the long list of things to do to prepare our caravan and little family for the trip across the Tasman…. but it didn't. So I have complied the list for you.
There is a fair bit to do so if you are travelling Australia we definitely recommend a few days in a Melbourne caravan park to get organised.
You cannot return to your van during the trip so you need to pack overnight bags. On top of the standard PJs-Toothbrush-pair of undies trio families travelling with their van to caravan will need: food and snacks (you aren't allowed to take fruit and vegetables on board on the way to Tasmania), drinks, medication, iPads, drawing kit, a few toys, enough change of clothes in case of 'accidents', warm jumpers for air conditioning and all the assorted chargers.
Sea sickness: we were recommended Kwells tablets
Your gas bottles must be off: that means that the fridge and freezer won't be on for over 12h. Our recommendation is to defrost the freezer, pack the Engel and start eating your fridge out about 7 days prior to the journey.
BBQ butane canisters must be handed in upon boarding (such as the the ones you buy from Kmart and you use for camping) . Make sure you get them all out of the van, roof or wherever you store them or you will be pulling everything out on the wharf. This also includes any flammable liquid (or so we expect). You will hand those in at Quarantine in Melbourne and they will be handed over to you after you unload in Devonport (ask the Quarantine officer when you drive down the ramp)
Axe: you are not to have an axe in your vehicle/van. It needs to be handed over as well (if you have one)
No fresh fruit or veggies are to enter Tasmania so start eating your fridge 5 days ahead – if you want the exact details refer to here. See the Quarantine website for more details.
If you are carrying fishing or aquatic equipment, such as fishing rods, fishing tackle, boats, kayaks, etc must be declared at each port to Quarantine Tasmania
Jerry cans used for carrying petrol/diesel must meet the following conditions or will be confiscated and disposed of: (1) The jerry can or container must be fully welded at the seams (plastic or metal); (2) They must not be greater than 25 litre in capacity; (3) the sealing cap must have locking side arms or screw cap with an effective rubber seal; (4) The jerry can must be carried empty and dry of residual fuel or be filled with water prior to embarkation; and (5) Boat fuel tanks may be carried with fuel provided they comply with Australian Standards, have welded seams and are fitted with screw caps with a rubber seal and a pressure release valve.
Make sure everything is secure: it may be a bit of a bumpy ride so make sure your cupboards are nice and tight and be careful when you open them at the other end.
Cash: it is best to take some cash – they have EFTPOS but it may not work well when at sea
Cabins
Cabins contains bedding, linen, towels and soap.
Infant cots are provided free of charge however you will need to bring the bedding for the cots
All cabins have a powerpoint, air con, reading lights, a desk with chair and wall mirror.
Our cabin was a 4 birth inside one, super roomy and as it is in the middle of the boat we were told by other passengers that you didn't feel the boat move as much. We found the cabins excellent, very comfortable (incl. bed, pillows) and very clean.
Food
There are many dining options on board to keep you all entertained but we still recommend you pack some food or snacks depending on your family's dietary requirements
Kids under 5 eat free at the restaurants (dinner and breakfast)
Continental breakfast for $10 in the morning but you'd want to be up early (e.g. 5am) as when it's time to go get your car it's time to go!
Kids entertainment
There is a kids playroom as well as a games arcade and a cinema. More info here.
Getting off:
There is an announcement on the loud speaker 45min prior to disembarking (so this is your wake up call)
We were told that our Garage (G5) was going to exit first. At 6.30 we were called to our garage and we were out in 5 min!
You will go thru Quarantine again (just hand the paper slip you were given, it's a 20 second stop) and then you ask the quarantine officer to show you where to pick up your Butane BBQ (or anything else you had to hand in).
We absolutely LOVED our sail across and so did the girls.
Is there anything we have forgotten? Please let us know in the comments!