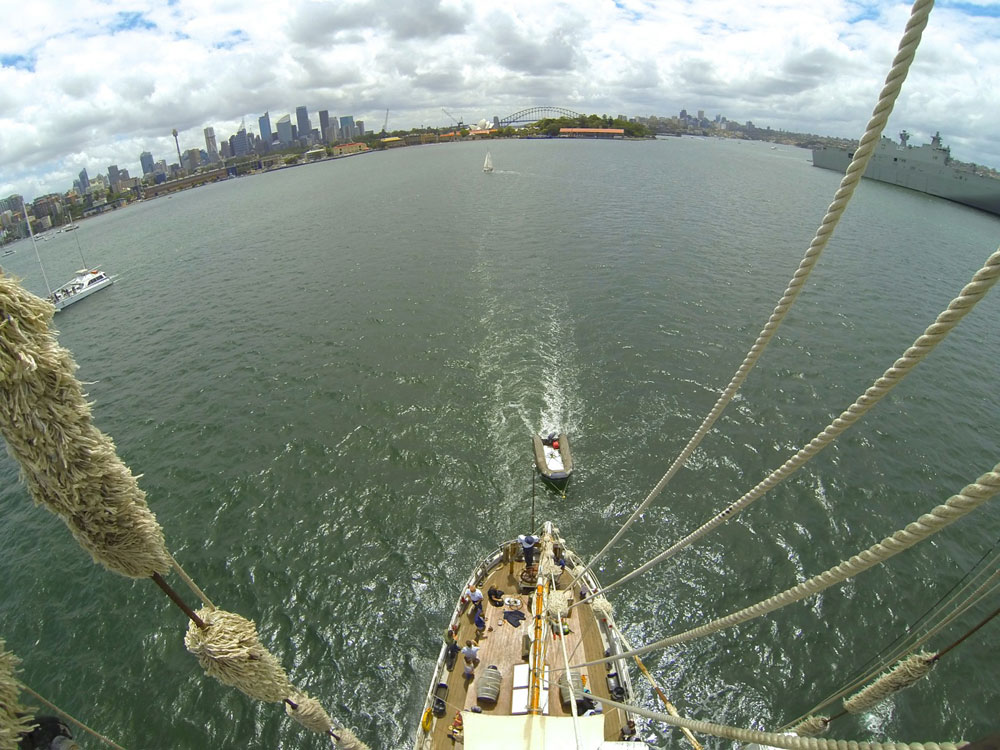 I woke up in a sweat. I was sipping on a glass of crisp bubbly and listening to Warrick telling me sweet nothings. There was no distraction, no little person tugging on my dress. The warm summer breeze was caressing my hair. We were sailing past Sydney's iconic Opera House.
Then I woke up.
Lili, where was Lili? it only took me a few seconds to remember that our AMAZING French au pair had returned to France over 7 months ago. It was the full moon after all. I was still having withdrawal symptoms. There was no nanny anymore – if we were to go on a cruise our 2 little cherubs would have to join us.
A cruise sounded like a great way to explore Sydney – especially for the water addicts that we are. However, Google lists over 2 million pages when searching for Sydney Harbour Cruise. Which one to choose? I was now after a kid friendly cruise instead of a romantic one.
We settled on a sailing cruise: Sydney Harbour Tall Ships. They are a 100% Australian owned tourism business and had outstanding reviews both on Google and TripAdvisor. A two hour lunch cruise meant Warrick and I may have 10 min to ourselves while the kids played with their food :). Lock it in Eddie.
The cruise left Circular Quay at 1.30 and sailed the Sydney harbour for 2h. Our vessel was the majestic Søren Larsen, a voyaging tall ship that circumnavigated the world twice. The ship is a brigantine (a two masted vessel with mostly square sails) that definitely stood out on the harbour! Harbour Bridge, Opera House, Sydney ferries and hundreds of sailing boats on the harbour, we saw it all!
Nibbles such as yummy samosas were served shortly after boarding and lunch followed – salads, chicken skewers as well as a vegetarian option had everyone covered, even the gluten free and pale folks!
We had opted for the full bar extra (so I had my champagne after all!) and Warrick did the mast climb which was something out of this world apparently. I myself don't do too well with heights, especially on a sailing boat in the middle of Sydney harbour!
We found the 2h lunch cruise to be a really suitable option for our family with young children – it had great sights, food galore and the staff was delightful with them. This is a much better option than a lunch or dinner in a restaurant where they have to be quiet and can't move.
We would definitely recommend the Sydney Tallship Lunch cruise to a family with young children.
For more information visit Sydney Tallships