Surfing was your life. You used to be out the door before sunrise every morning to get your daily dose of surfing goodness before heading off to work.
And then little Johnny (or Jenny) came into this world. The first four months your board remained stiff and hopeful, making strong eye contact with you from its prime position in the corner of your bedroom. You promised yourself that when little Johnny's sleep pattern gave you enough time and energy to dance in the waves that you would be out the door at the drop of a hat. Another 3 months later you decided that your board would be more comfortable in her board bag tucked away comfortably in the garage out of sight.
Then one day on the beach you saw this: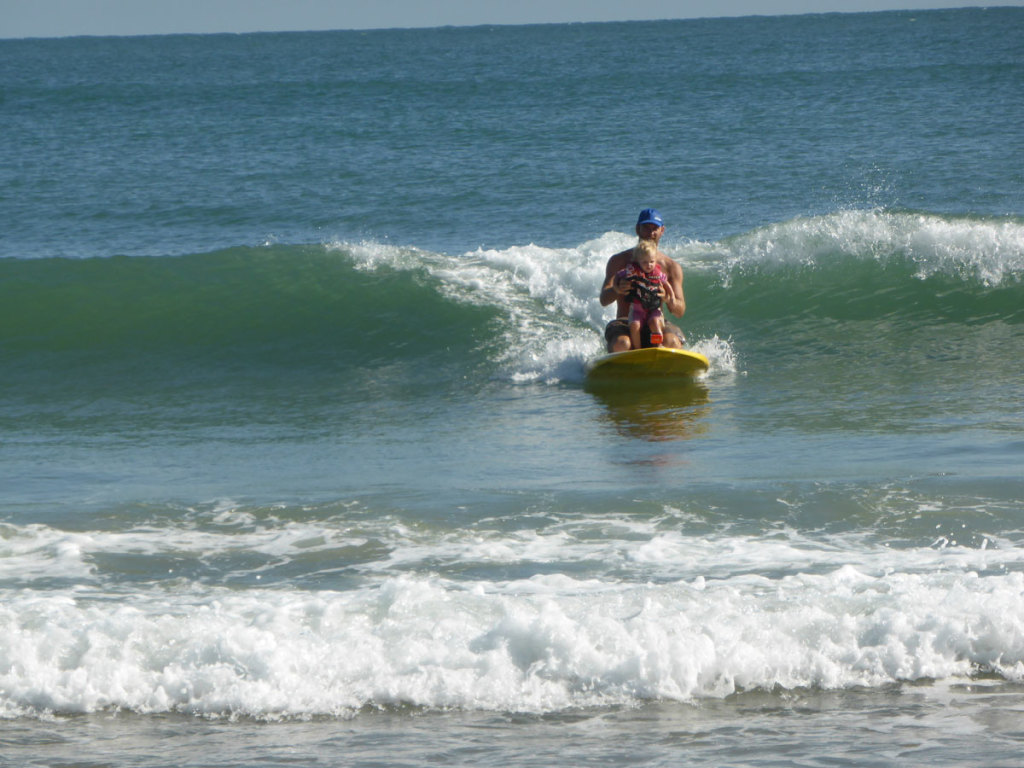 Stand Up Paddling (SUP) has taken Australia by storm. Unlike surfing, you don't have to rely on waves for a ride, rather your own energy.  You can take your stand up paddleboard on any type of water: ocean, river, lake and obviously the surf.  There are even SUP schools and hire companies that run on-water SUP yoga classes.
SUPping is accessible to everyone. There is no need to be fit to get started although some balance is required. It is also super family friendly as you can take your kids on your board for a paddle to see the sights!
The baptism of fire
Warrick , myself (Fabie) and the girls started stand up paddling in July 2013. We had taken our boat over to Moreton Island to enjoy a glorious winter's day. It was a super calm day and there happened to be a few of those ginormous boards available for hire on the beach. I eagerly grabbed Charlotte and dragged the 3-meter long blue beast into the ocean.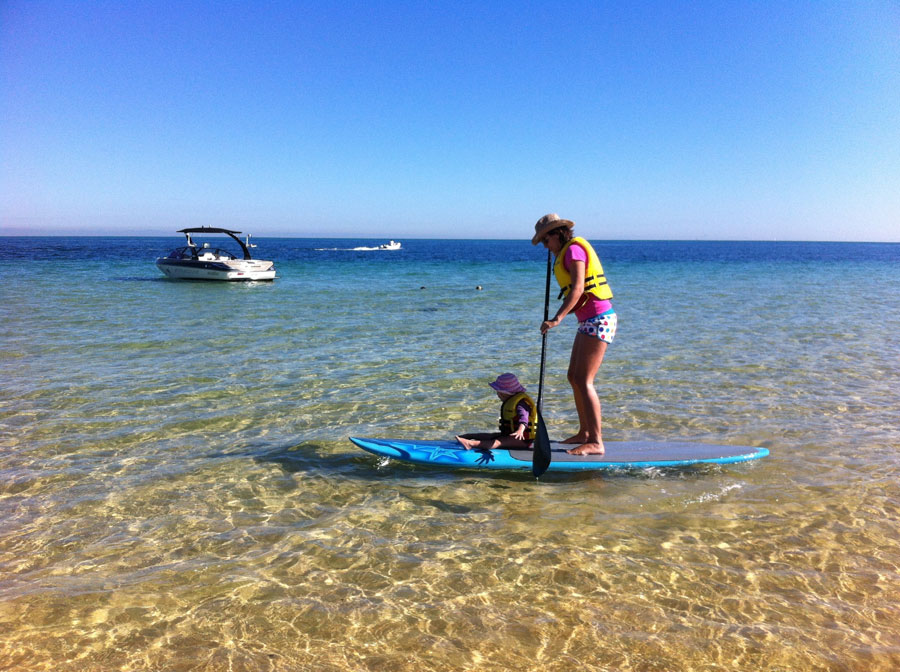 The water was pristine and very inviting. Charlotte and I both wiggled our way onto the board, belly first. After a rather unsightly wobbly balancing act I managed to stand up. It was only when I felt the impact of the water on my face that I realised that I should have remained on my knees!
Here are my SUP induction tips in case you get onto the water without having read 'the manual'
Ensure your board's fin isn't touching the sand when you first jump on. The result will be a very good laugh for all the beach goers and a very went and embarrased you. 

Be prepared to fall as you will most likely fall
Stick to the shoreline and shallow waters

Mount the board on your knees and position yourself over the centre carry handle as this is generally the centre balance point of the SUP.

The paddle should be held with the angle of the blade forward (unlike the way I am holding it in the picture below… )
Your paddle should be vertical when scooping the water and short backwards flicks used to move forward
Don't take your kids out on the SUP unless you are confident in your ability and make sure they have a PFD that fits properly on at all times.
Don't forget to wear sunscreen 🙂
Check out this Starboard 'How To' video to get more tips
Selecting the right SUP for your needs
Warrick and I were hooked. We had found a fun activity do with the girls that didn't require filling up a ski boat petrol tank every day and we could get a good workout and be in the sunshine at the same time. What else would we need I hear you say. Well, we needed boards. Quick and fast.
After an initial visit to our local SUP store we quickly realised that most shops hold demo days to get people to try different brands and different boards. We were in luck as a van full of demo boards and paddles was making its way up the East coast. That was our next 3 weekend sorted: we followed it from the Gold Coast to Noosa, kids, picnic bag and au pair in tow.
What type of SUP 
What type of board you buy will depend on what you want to do with it.  This is the most important question you need to address before you set foot in a shop and talk to a salesperson or head online for new or used boards.
Do you live near the beach and want to SUP-surf? Will you be spending most of your time in a calm creek or do you want to do some open water paddle adventures?  Different shaped boards suit different purposes. There are 3 main specific SUP board designs:
Surf-SUPs: they are generally less than 10.0" long and and are designed specifically for surfing. They are getting shorter and more manoeuvrable every year.
All rounder and tourer SUPs: these board generally range from 10" to 12". The all rounder is rounder on the nose, flatter and shorter than a touring board. The all rounder is a popular board style to enter the sport.  A touring board will have more of a pointy nose (for cutting through water faster) and will be best used in flat to small choppy water.
Race boards: From 12" to 14": those are for the serious SUPpers. They are skinnier, tippier and the fastest boards on the scene. This style of board is also used for downwind (one way) runs.
When we bought our first SUPs we lived with Moreton Bay on our doorstep, so the majority of our paddling was going to be in flat to small choppy waters of the creeks and bayside shorelines. I selected a touring board and Warrick, who loves a bit of a surfing now and then, selected an all round board. Most importantly, we ensured both our boards were wide and stable enough to take our daughters Charlotte and Celeste on them.
Selecting the right SUP for your wallet
A new, good quality SUP will set you back approximately $1,500. That's for one, without the paddle. Yip. 1-5-0-0! Most shop offer packages these days, which include paddle, board, leash and board bag. All I can say is shop around and haggle.
Well known SUP brands such as Starboard, Naish, Fanatic and JP Australia are manufactured in Thailand at the Cobra Factory. Other boards are now made in China. We were advised to stay away from the Chinese boards as they haven't benefited from the same level R&D as those made at Cobra. They tend to be heavier and there are some horror quality stories getting around. The resale value of the name brands in the second hand market is much higher also. At the end of the day you get what you pay for.
Once you have selected the board for your needs, you will then have different options with regards to the construction of the board:
closed cell polyurethane core 

foam (Expanded PolyStyrene) core with fibreglass shell (cheaper than carbon)
foam (EPS) core with carbon shell
completely hollow core with carbon/glass shell
inflatables or iSUPs (super practical & fit into a big backpack. We chose 2 different Starboard brand iSUPs for our trip)
Warrick and I were very happy with the EPS with fibreglass shelled boards. They are cheaper, slightly heavier than the carbon shelled SUPs but can take more punishment compared to carbon. We won't be taking our fibreglass boards with us around Australia as we have nowhere to store them (we will have a tinnie on the roof of the car). Instead, we have 2 Starboard Astro inflatable boards that will be providing us with the tools for unlimited adventure out on the water. I once again chose a tourer that is 12'6 long and Warrick chose a 10'0 all round board.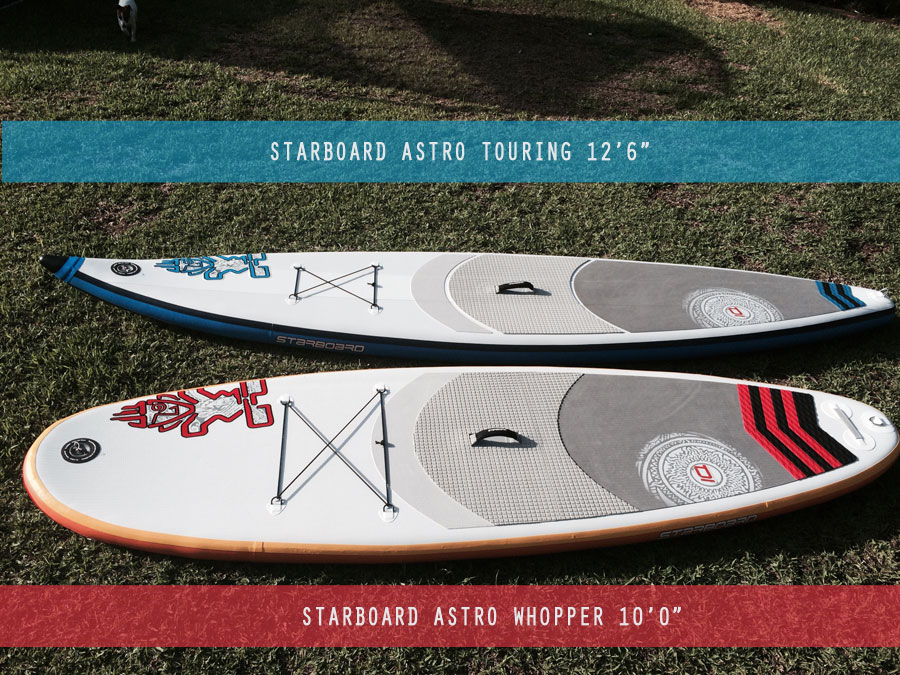 The paddle
Purchase a lightweight paddle. This is the instrument that you will be pushing through the water 100's of times so the less weight the better. The difference can come down to as little as $100.
Most brands make their own paddles but there is no need to match your board and paddle. Match yourself to the paddle. 
There is a difference between men and women's paddles
Choose between an adjustable shaft or one piece shaft paddle. Adjustable paddles are great if you want to share your paddle with your partner or friends.  One piece shaft paddles aren't adjustable – they will be 'cut' to your size upon purchase. You can cut them down shorter but not add length.
Material (from cheapest to more expensive): plastic, plastic and fiberglass, all fiberglass, fiberglass blade and carbon shaft (our paddles), carbon blade and carbon shaft.
Warrick and I both bought QuickBlade paddles and have been super stoked from day one. Unfortunately Warrick's paddle shaft broke in the surf but QuickBlade and shop (SurfFX)  were great to deal with and immediately sent a replacement shaft. Take a look on the QuickBlade website for all the specs.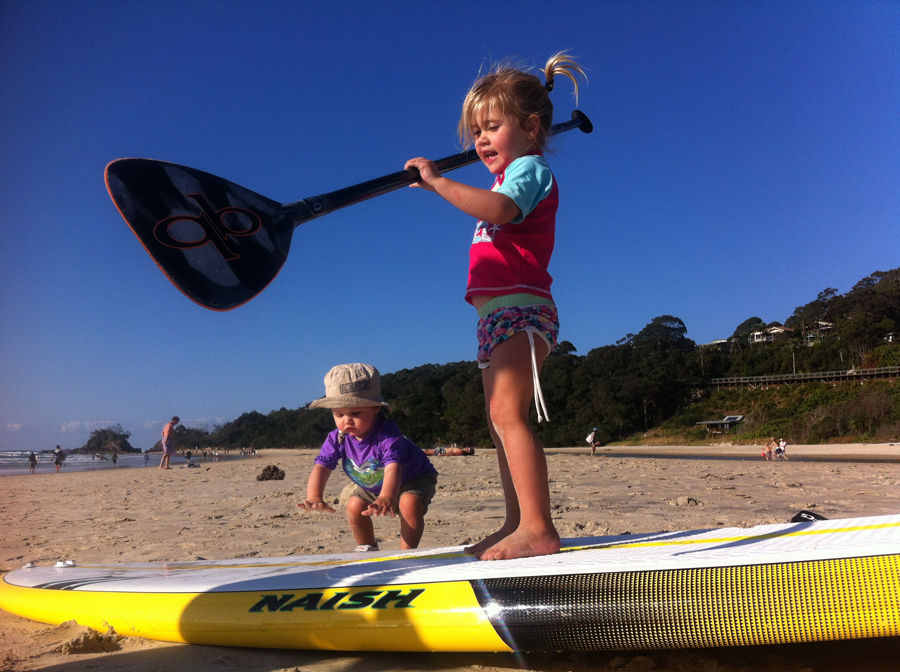 Other SUP gear you'll need
Unless you buy iSups (inflatables) you'll need a good pair of roof racks. By good I mean those that have a rubber insert on the top that prevents the boards from rubbing and scratching.
You will also need a SUP leash if you go in the surf or go downwinding
Finally, I strongly recommend anyone get a set of KanuLock tie down straps which are lockable (via a key) stainless-steel wire reinforced to prevent them being cut and your boards being stolen.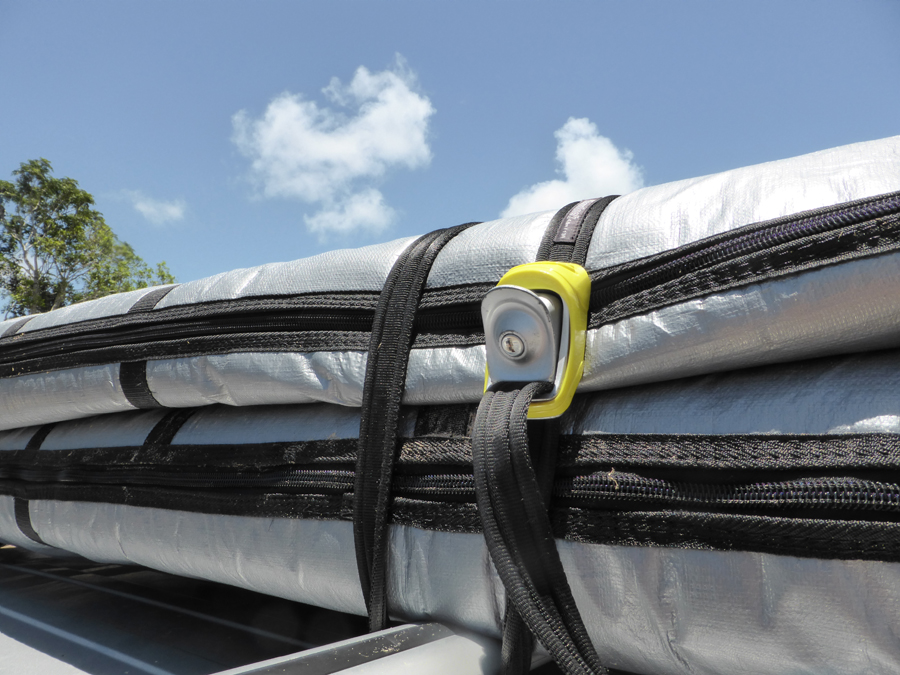 Get out there
Practice make perfect as they say. The more you go SUPping the more you will enjoy it and the fitter you will feel.
Look for SUP groups on Facebook! Warrick and I started our own Facebook group (Brisbane Bayside SUP) when we purchased our boards so we could meet other local SUP enthusiasts. You'll find a group in your region, or just start your own (you don't have to be experienced!). There are also SUP clubs such as the awesome Brisbane SUP group (BrisSUP Club Inc).
Have you tried SUPping?
Do you have some tips to share with beginners?
Have you taken your kids on your board?
What are your favourite SUP spots?