After what felt like a 12h cruise (bar, crisp white sheets and all) we arrived in Davenport at 6.30am. At 6.42am we were off the boat, car and caravan in tow, ready for our two-month adventure on the apple isle… or – as I prefer to call it – the cheese and berry isle! (read about how to prepare your caravan for the journey on the Spirit of Tasmania)
About Ulverstone
We based ourselves in Ulverstone where we stayed at the BIG4 Ulverstone caravan park for 4 nights. The managers, Nigel and Jo pointed out all the great things to do with kids around Ulverstone and even created their own itineraries on Google maps which they printed for their guests to use!
Ulverstone is a picturesque coastal town of about 10,000 inhabitants right at the mouth of the Leven river. It has 2 huge playgrounds, Woolies, Coles and a wonderful coffee shop with the best home made deserts called Thirty Three cups.
The first day was spent replenishing on fruit and veggies (as you can't bring any in Tassie), visiting the local op shop for warm fleecy clothes, scarves and beanies. In the afternoon we headed to Burnie and returned to Ulverstone via the Penguin in a 40 knot headwind. We noted at least 3 beachfront free camps on the way.
Things to do with kids in around Ulverstone
Visit the visitor information centre at Burnie which also holds the Makers Workshop (a suite of different local artisans expose their work). You can also buy heavily discounted local cheese and there is a great coffee shop.
Another must is the Infuse Coffee roasters in the industrial area of Burnie! They have comfy lounges you and the kids can relax and enjoy a warm caffeinated beverage, perfect after a 6.30 am start.
Pick your own berries at the Berry Patch at Turners beach and have a tasty berry ice cream!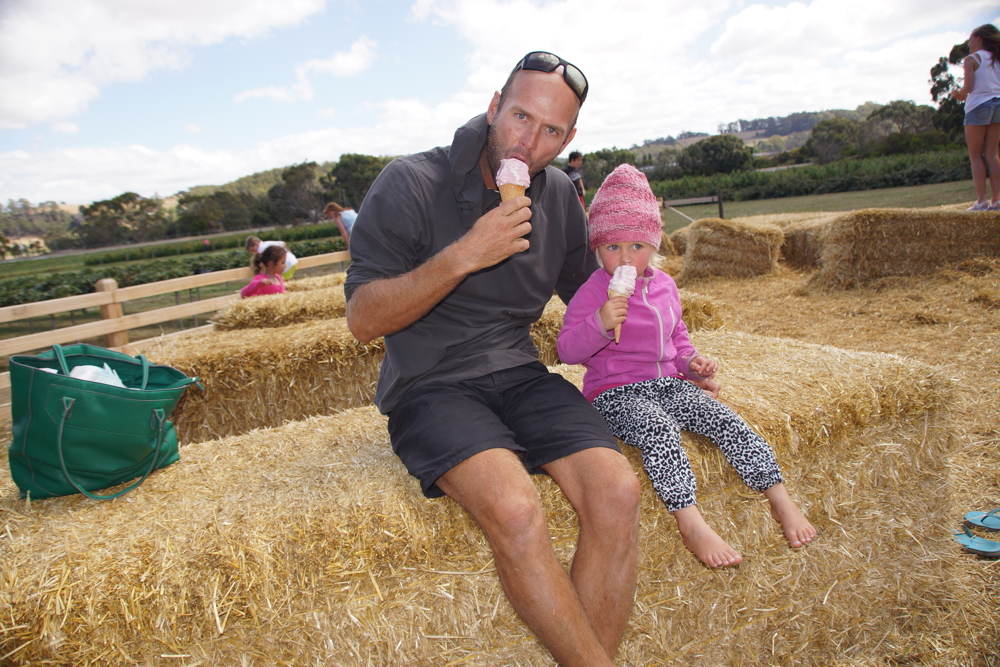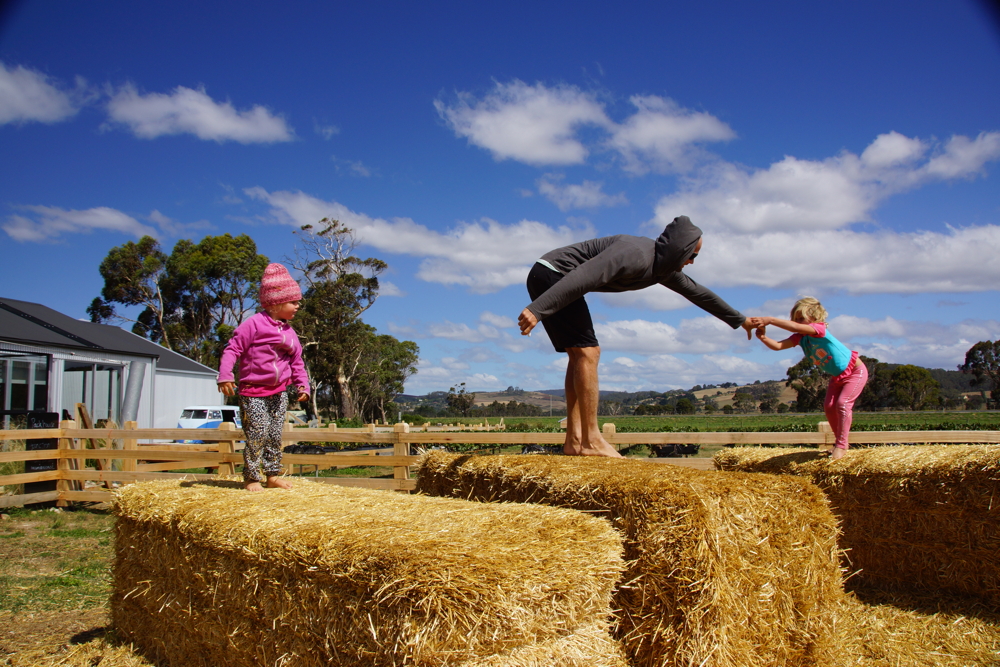 Exploring Port Sorell with the locals
On Sunday we were invited to go jet skiing with a family that follows us on Facebook – we met them at Port Sorell at 10.30 am and quickly slipped into our wetsuits! The water was so beautiful and we spotted a National park on the other side of the inlet which we headed for the next day.
Narawntapu National Park
Narawntapu National Park is located between Launceston and Devonport and has a number of campgrounds, including the waterfront Bakers Point area where we set up. It will cost you $24 per day to take your car into the National park but you can also buy the 8-week pass for $60. An unpowered site is $13 per night and they are big enough to fit our 23 foot family caravan.
There are a number of bush walks as well as horse riding trails (you can camp here with your horse!) you can take. With our little youngsters in tow we settled for Bakers Beach where we the only form of life we saw were fresh hooves prints.
Photo gallery of our family adventures in North Tasmania
What were some of your very favourite adventures in Tasmania?