Update on 16 October 2016:
Coromal Element B696 triple bunks, separate shower, toilet, washing machine and equipped for free camp for sale.
We're now selling our beloved caravan, 2013 Coromal Element 696, triple bunk family van, separate shower and toilet. Dometic front loader washing machine. Very well looked after. Original owner from new.
23 foot (6.96m), fully equipped to travel Australia for and free camp with 2 water tanks, 1 grey water tank, solar and extra storage.
2013 model
Reverse cycle air conditioning and heater
Aluminium frame
L shape dining
Drop down stabilising legs (opposed to wind down)
Digital TV antenna
Flat screenTV with DVD player
200 W roof-mounted solar panel
1 x 120ah AGM battery with wiring and box for 2nd battery installed
Newly fitted Projecta battery charging system
Grey water tank
Full enclosed annexe
Privacy shade sail
Trail-a-mate hydraulic jokey wheel and stand
2.5kg Front loader Dometic washing machine
Separate filtered drinking water tap on sink
4 underslung tool boxes
185 Litre three way fridge and freezer (2 doors). Dometic RM 460
2 x Jerry can holders on rear bumper
Fully enclosed annex
Memory foam mattress topper
Tare: 1943kg on plate
ATM: 2830kg on plate (upgraded)
GVM: 2830kg on plate (upgraded)
For enquiries call Fabienne on 0405 063 580.
Pick up location is Agnes Water.
—————-——–
Our house on wheels is a Coromal Elements B696 – Triple Bunk Family Van. It has a queen size bed at the front, a kitchen with L shaped lounge in the middle and triple bunks with separate toilet and shower at the back.
We purchased it new from the 2013 Brisbane Caravan and Camping Show. This is why we fell in love with it.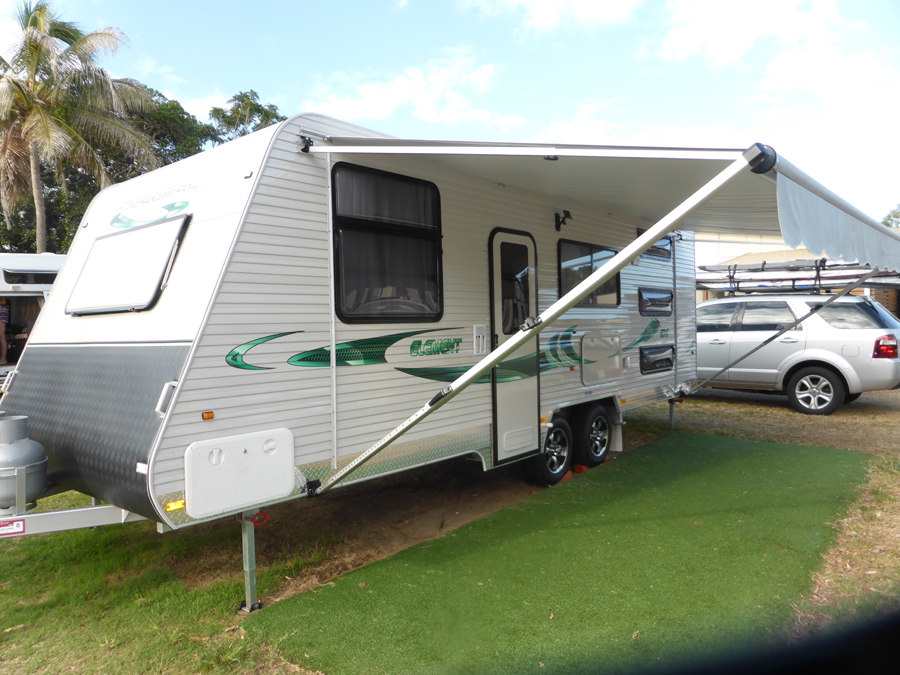 It is lightweight compared to other similar vans
When we bought the van we had a 2009 4L petrol Ford Territory with a maximum towing capacity of 2300 kg and max ball weight of 230kg. We didn't want to upgrade the car at that stage so any van that we purchased had to come in under these limits with long weekend away gear packed and staying at powered sites.
The legalities of being overloaded and involved in an accident could ruin your and anyone else's, not to mention the car/van being dangerous to drive, voiding your insurance, fines, defect notices, the list goes on.
The Coromal Element B696 came in at 1930kg tare so we had a little to play with for our weekends away but not much. That meant no water in tanks, bare minimum beer in the fridge and not too many unessential items.We always knew we would upgrade the tow vehicle one day but first purchase had to be the van. One of the main reasons the 696 came in as the lightest of all the family vans we whittled our choices down to was the aluminium frame instead of the wooden frame. Another factor was the heavier the van the harder the car would have to work pulling it and the thirstier it became.
We have 2 kids!
Before we started looking for a van that would suit our family of 2 adults and 2 young kids (3yo & 1 yo) we sat down and wrote a big list of things we needed and wanted. We are not a 'keeping up with the Jones's' family so kept the list practical and of course within budget (would you believe some vans have two-pack kitchen cupboards?)
With both Mum and Dad being over 5'10 we needed a big comfy bed with an innerspring mattress. 3 full size 190cm bunk beds were a must for the kids beds just in case we had guests and sleeping arrangements then had to be rearranged. Separate shower and toilet with room to poke your elbows out and spin around in either. Actually, the shower has plenty of room for Fabie to join me and scrub my back 🙂 We passed on having an inbuilt clothes washing machine at time of purchase but after our first 3 months of taking the van away we got over paying $4 + dollars per load and having clothes coming out dirtier than when put in, and even to the degree of hanging up the clothes on the communal clothes line and someone's frilly knickers going missing…..
We just so happened to be at our local Coromal dealer (whom we purchased it from) laying some dollars down for a cheapish portable washing machine when Mark the owner mentioned that another family had 3 months ago taken out their front loader Dometic washing machine and converted the space to a 4th kids bed and had it sitting down the back collecting dust. We jumped on the opportunity and he kindly threw in all of the piping needed for me to plumb in it. With a day cutting cupboards apart, trimming doors and plumbing the machine in the first test load went off without a hitch.It may be a long winded story about a washing machine but when you have young kids and need to wash nearly every day it is a marriage saver.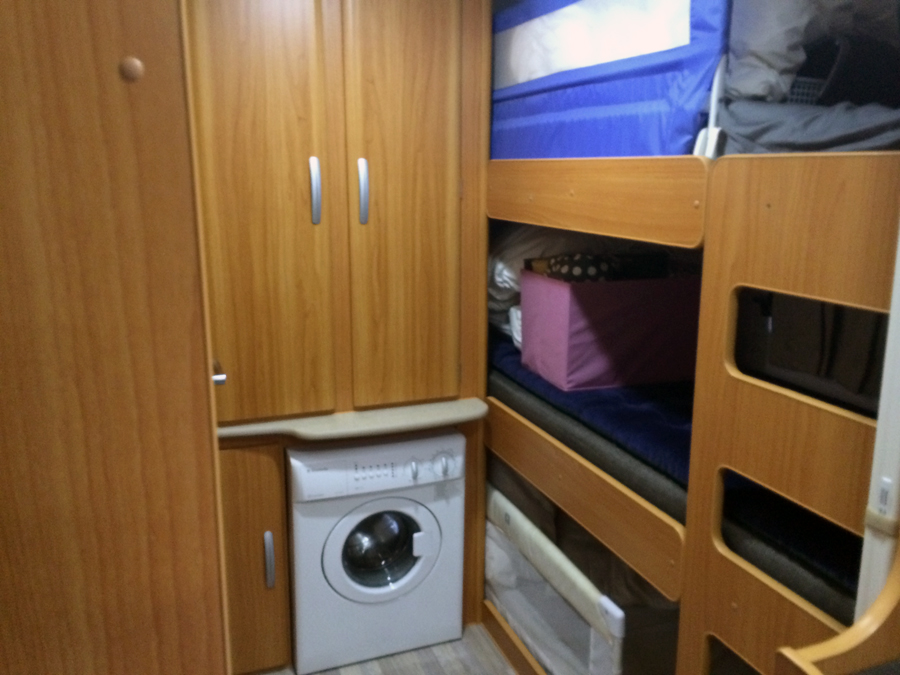 Obviously the van had to have a big fridge (we went with the 180lt), great cooking facilities, plenty of storage, air conditioning and a big awning. All fairly standard features but essential. We also added an Aussie Traveller annex for the times we wanted to have more privacy and weather tightness.
We were looking for value for money
With a strict budget to stick to we visited many caravan sales centres prior to our big 2 days at the Caravan & Camping show at the Brisbane RNA Showgrounds. We wanted to get a pre show price run down on the market. We also spent countless days & night scouring the internet.
At the show, unbelievably some dealers just so happened to up their prices and then discount them 1/2 of the increase. We confronted one dealer whom we had already visited at his dealership and he suggested that everyone does it as normal practice to lure customers into a false sense of big discounts. This is not how we like to be played so no business for him.
Onwards and upwards.
We hit the Coromal stand and after 2 hours of sitting in every family van in their fleet and sussing the ergonomics of the layouts we were forced home due to the kids and a view to return the following day (Coromal guys gave us 2 free tickets to come back as they could see our interest in their product).
In returning to the show the next day with the view to purchasing the smaller 626, we realised that the bigger 696 was within our tow limits and only 100kg heavier than the smaller 626. We then jumped at the opportunity to purchase the larger van and grabbed our friendly salesman, pushed him onto the ground, twisted his arm, bleed him to the point of being dry and then asked for a free TV as well.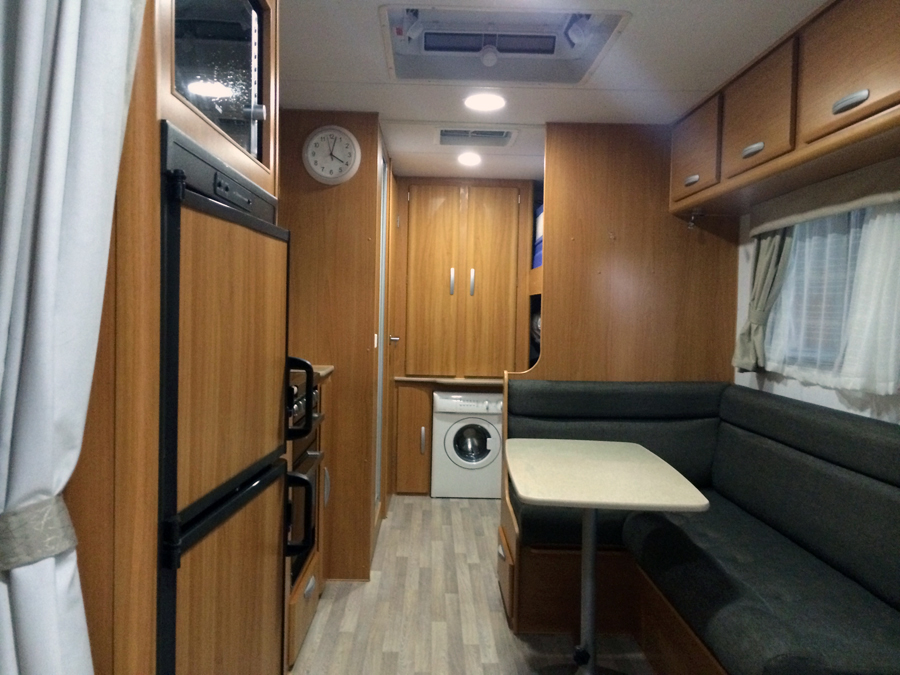 It looked great and modern
We wanted a modern-looking van and I was quite attracted by the silver and green colours of the outside and the choice of colours we had for the inside. We chose the lighter-coloured lino called Milk Lodge and the Shannon Meteor (dark grey) for both the seat cushions and seat back. It turned out the be a very wise decision, especially with the two little monsters.
Reputable brand
We knew that one day we would take it around Australia so wanted a reputable brand with a great service history and dealers all around the country. Coromal has been around since 1977 and has made enough caravans over the years to iron out the bugs (well, most of them we hope!). It has 75 service agents all around Australia.
The dealer we purchased from (City Caravan Centre in Logan) were super friendly. We first dealt with Jim who was over from WA for the caravan show. He has owned Coromals all his life and just loves the brand so much that he steps out of retirement and joins Mark's team for the Brisbane show. We thought that said a lot about the brand. We then met Tony and Mark who still had a smile on their face at 5pm on the Friday night of the show.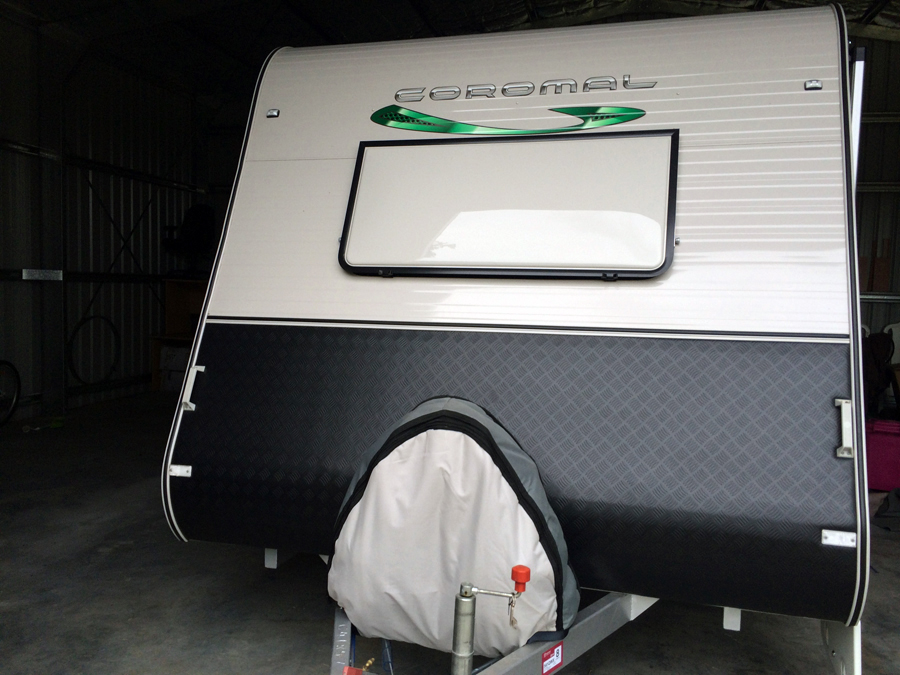 Down the track
We have now had the van for 6 months and travelled as far south of Brisbane to Byron Bay and as far north as Agnes Water and 1770. We have been extremely comfortable and happy both with the stability on the road and the functionality of the van when set up at the caravan park. We have only so far stayed on powered sites but with Warrick's latest addition of the extra battery, solar panel and regulator we are now equipped for free camping adventures off the beaten track.
No caravan is without its faults – we have had a few very minor issues – a rangehood fan motor died, the Dometic B3000 aircon had a rattle which turned out to be refrigerant gurgling in the pipes (a stainer was installed to fix the rattle under warranty).  We also had the twin gas bottle fail in Agnes Water on a Sunday and the dealer had one to us by Tuesday in express mail.
Everything was promptly fixed under warranty without any pain or suffering.
Would we recommend it?
100% yes. The value for money is second to none. It tows beautifully and the after sales service has been excellent so far.
Our Coromal B696 Specs
2013 Road model, no RTP pack
Tare: 1930 KG
ATM (orignal):
ATM (after upgrade): 2830kg
Fridge: Dometic RM 4601 (185L)
L-shaped dinette
Solar provision
Drop down Jac legs
Picnic table
Digital Jac Antenna
Dometic aircon B3000
back to This Is Our Australia homepage