The park, in details
Date of stay
Will we return?
Hell yes! This park is the first on our list!
Location
Centre of town
Right by the beach, direct access form park to public beach
Amenities
Shower/Toilet and Facilities: huge amenities block located in the middle of the park, 1 min walk from any camp side
Laundry: front loaders ($6), top loaders ($4)  and dryers.
Suitability
Van size: our van is 8m long (family van) and we fit on a site right in front of the beach. Their new website uses the Newbook online booking system which informs you about the suitability of the site before you book
Shade: not many trees! many people with camper trailers had brought their gazebos
Children: perfect for children. There is a kiddies park 20 meters away next to the public beach entrance. No organised activities for kids, even during the peak period.
Pets: pet friendly except during peak period. Detailed pet page on their website (link)
Atmosphere
Noise: It is a rather small park and we didn't have any problem with noise. Nobby the manager does the rounds many times a day on his golf buggy and so do cleaners. Managers live next door so are always available is there is a problem.
Site spacing: space between sites aren't huge but it is totally fine
Openness: as much as one can expect for a park in the middle of town, right by the beach
Lighting: fine
Permanents: none
Nearby attractions
Beach (10m, right in front of park)
Coffee shop/restaurant in park
20 meters walk to kiddies park
Short stroll to centre of town and all shops
1770 just a 10 min drive away
---
Interview from managers
Caryn and her husband Noddy are the new managers of Agnes Water Caravan Park. They have been here 4 months and are loving living and working in Paradise.
What do you like about being the manager of Agnes Water Beach Caravan Park?
It is paradise here. The warm temperature, the people, the fresh air.
Well, I was also born and bread in a caravan park and taking bookings and checking people in at the age of 6 (!). This is what I know how to do and love doing.
What is so special about your location?
Well, we are on the last surfing beach of Queensland heading north! The barrier reef starts after us. Need I say more? Oh yes, it is Paradise.
Do you have any memorable guests?
You should see the little kids when they see my husband Nobbie on his golf cart taking little kids around for a short ride. I also love to see the kiddies faces when they caught a fish (the park is right on the main beach at Agnes Water) and come so proud to show me.
What do you do in  your spare time?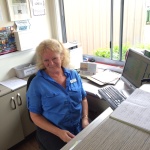 Well I start here at 6.30am every day cleaning the amenities as I want to ensure they are clean for when our campers get up. And then I am here until 8 at night. So I don't really have spare time but I just love doing what I do.
Best place in town for coffee and a feed?
The coffee is fantastic at Agnes Water Beach Caravan park (note: they have only opened 2 weeks ago but have everyone raves about that place). A beautiful place to hang out at and watch the sunset is the Tree restaurant in 1770. The view is magnificent, the service top notch and the food excellent.