Over the past few days it has truly started to sync in that this isn't a long weekend anymore… and I have been reflecting on the good, the bad and the ugly of our experience so far. What did I do right, what did I do wrong? I am hoping that you can learn from my challenges and that my solutions will save you precious time.
1. Slow wake ups are well and truly gone
We go from deep sleep to a little hand grabbing your ankles and asking for breakfast. Our kids don't have a bedroom anymore… so from the minute their eyes open it is ON! As they don't have much rest during the day, they are full of beans as soon as the birds start to wake up.
Solution our bed is at the front of the van and their bunks at the back, separated by a paper-thin concertina door. Over the past few days we have been trialling 'iPad TV' in their 'bedroom' (read shut the concertina door) to keep them quiet a little longer in the mornings. Works well!
2. There is no daycare/au pair/swimming lessons… we are on 24/7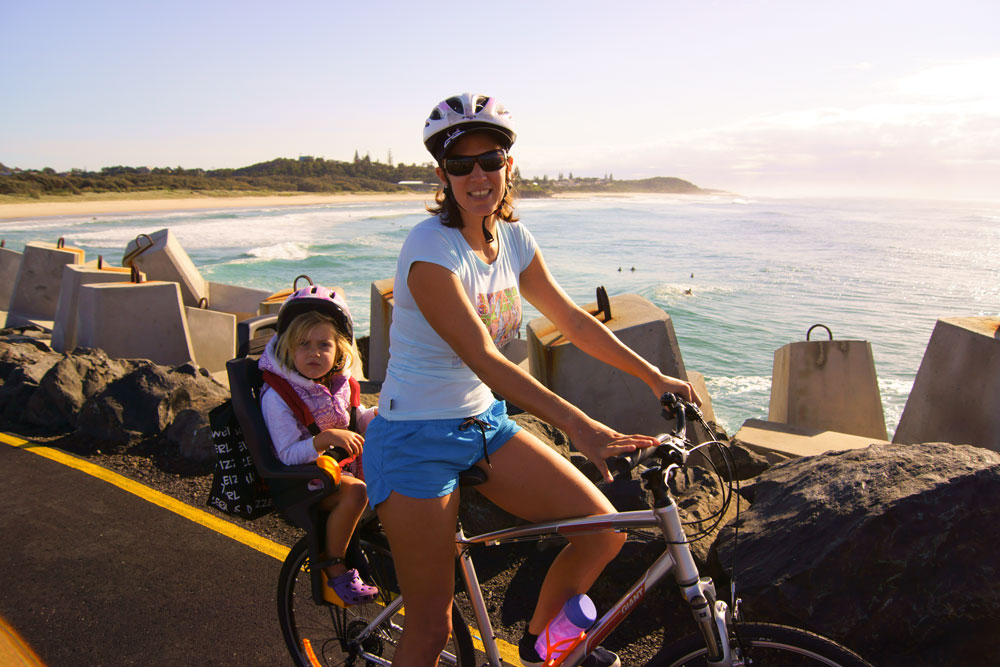 Our girls are almost 2 and 3.5 – the perfect age to travel as there is no schooling involved… however it is also a super active age, especially for young Celeste – who is always on the go.
Being on call 24/7 must have been the most difficult thing for me and Warrick as well – I am used to running my own business from home and we have had full time au pairs since the girls were born. From 8am to 4am I was running a 'normal' work life and my brain was 100% engaged. This doesn't happen anymore – well, actually,  my brain is still really creative and wants to turn everything it comes across as an opportunity but it keeps getting interrupted by cute little voices with amazing little shells/leaves/sand [insert daily special here!]. Don't take me wrong, it isn't a bad thing but it takes time to adjust and find a few 'Fabie' hours in the day.
To keep the kids occupied, what we found works well (for 20min blog power sessions)
$1 bubbles from Kmart (buy 20!) – it's a great thing to get them out of the van first thing in the morning or when you are trying to cook dinner
pick flowers, leaves or pebbles. Send them on a chase to find different colours and shapes – this works quite well if you are at a coffee shop!
find out where the best playgrounds are, and visit them morning, lunch and afternoon
locate the undercover playground or wet-weather activities – we found a circus-training facility in Byron Bay when it poured, was a godsend
keep the afternoon sleep routine for the little one, whatever it takes!
Peppa Pig and the rest of the troops on ABC2 – we sit the kids on our bed and they watch TV when we are cooking dinner.
wake up 45min before everyone, pull out the laptop and do some work, in the dark!
3. You are going to do more laundry than ever
Invest in a washing machine if you are travelling with kids and don't want to waste hours doing the washing at the park's laundrette. Apart from the $ saved (it costs generally around $4 a load at he caravan parks) we find that the real savings are time savings: no need to wait around for someone else's load to finish. We wash when it's suitable for us.  We have a front loader (that Warrick retro-fitted in the van) and let me tell you, I put a load on every single day. You can also pick up a twin tub portable machine for as little as $150 dollars from most caravan shops.
Kids get dirty, clothes get humid and smelly, sheets and towels get a work out (dirty feet, leaking bottles etc) – I wash more often than when we lived in a house. I started by doing the washing when we woke up. But then I had to wait about 90 min (front loader) for the cycle to finish…. sometimes we would be gone before then. Then we'd come back and it was starting to rain or was too late for the washing to dry. I now put a load on every evening and I hang it first thing in the morning so it can start drying right away and I can go stand up paddling.  I do towels / sheets on 90 degrees so they last longer between washes (if the kidlets don't throw them in the muddy puddles that is)! I also always use a prewash spray (woolies / Safeway home brand works well) on all stains.
4. Keep the basics, and shop as you go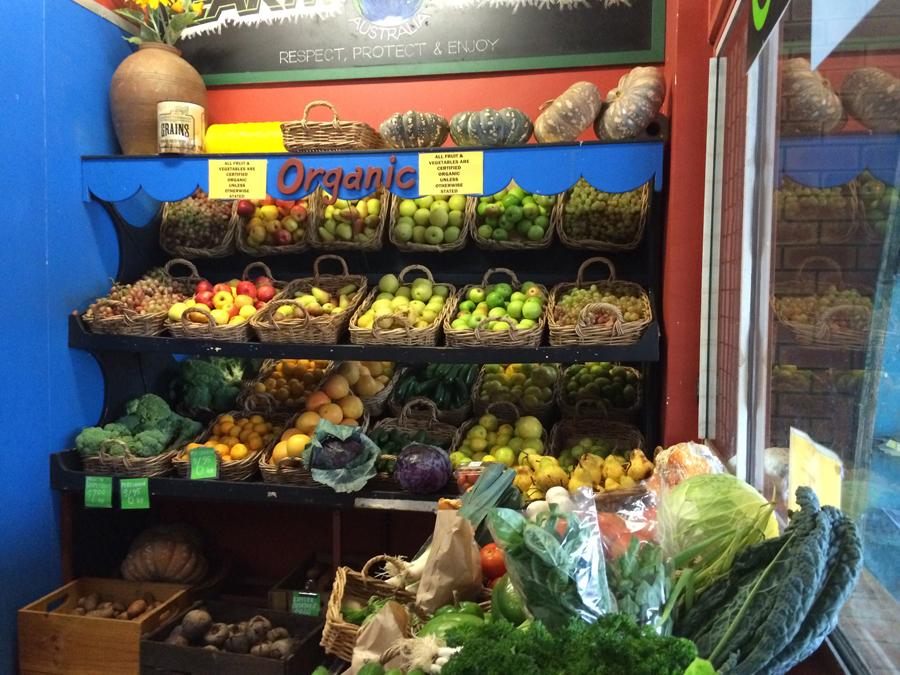 Gone is the well-stocked, fully labeled walk-in pantry – what we are dealing here is one drawer and 2 narrow shelves. The good thing: I know exactly what I have and don't have. The bad: we need to head to the shops every 2nd or 3rd day – and that is generally with very tired little people in tow. What a difference from my quiet, Sunday night online shopping and grocery pick up the next day.
We find that if we do a big shop to cover a whole week we simply have nowhere to store the fresh produce: the fridge fills up quickly and the freezer and Engel are already almost full. We keep the basics such as 2 cans of tinned tomatoes, 1 packet of pasta, 1 big packet of wraps, 2 cans of tinned tuna, tinned coconut milk, 2 dozen eggs and long life milk and refill when we shop for the fresh stuff.
We also buy meat in bulk (e.g. 2 kg rib or eye fillet on special), cut it and freze it.
5. Thank God for the Dreampot!
As you can probably tell if you have read a few of my posts, I love food but I prefer stand up paddleboarding, blogging, Excel and even cleaning to cooking dinner (I don't mind baking cakes, must be the 'Swiss' in me). Imagine my luck when I 'researched my options online' and came across Mr Dreampot who promised me I could be having a glass of wine while my dinner was cooking itself. I was sold.
The Dreampot is a thermal cooker (think big thermos) that slow cooks your food once you have pre-cooked it (5 min on the stove). It doesn't use any electricity at all, is very portable and can cook up to 2 different dishes at the same time. I generally put dinner on when Celeste is having her nap and it is ready by late afternoon.  So I can go for a paddle instead of cooking 🙂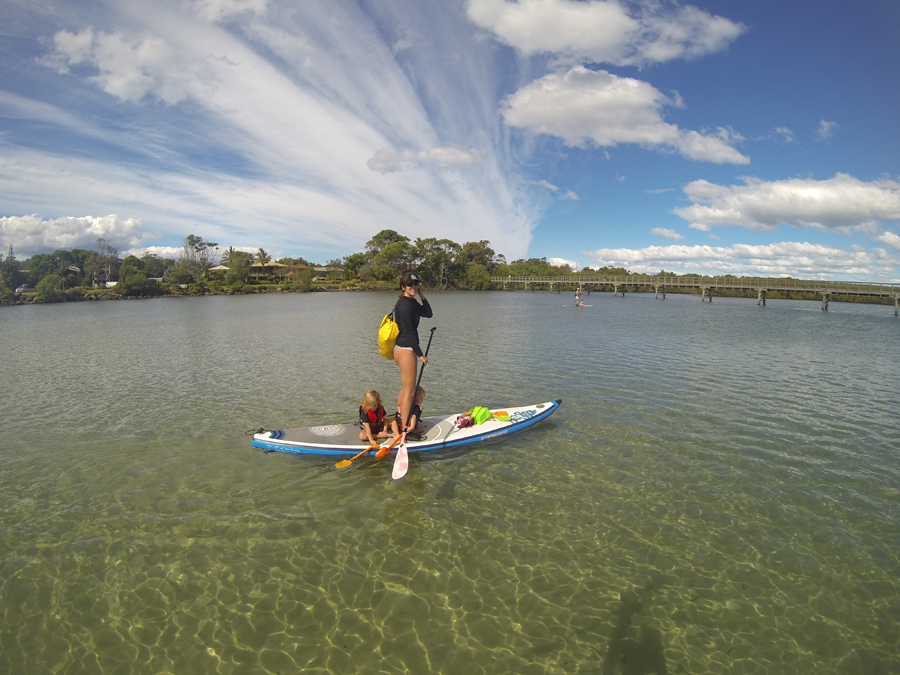 6. Ditch the camera bag
We have upgraded our DSLR camera for the trip – and as you do with anything 'new' you want to wrap it into cotton wool and protect it from shocks and bumps. Over the first few days I  brought the 'camera bag' everywhere we went. Then after a week I started to be lazy and only brought it with us every 2nd time… And of course that's when the most amazing things started to happen. I could literally frame the picture in my mind – but the camera was still nicely tucked in it's safe, shock proof, in the van.
After a little bit of research I was convinced it was ok to let go of the 'bag' and that my new little baby would survive hanging around my neck. I don't miss any single shot now and the bonus is that I look like a pro!
How did you find your first few weeks of caravanning?
Did you find you had to change things around in the van or that you had packed too many clothes?
I am dying to hear your tips !