Caravanning with kids is so rewarding. The outdoors is their biggest playground and you will see them evolve right in front of your eyes. However, living in 14m2 requires a bit of extra organisation.
When Charlotte and Celeste were born, Warrick and I had 'the' talk and decided that we were going to make them fit into our lives as much as possible because we knew that us fitting into their lives wasn't going to work for us…. Don't take me wrong, we are all about routine. But the routine doesn't need to be location-based: the girls have a sleep in the afternoon but they don't need to be in their own beds. They can be in the car, in the pram or on our backs. We are an adventure-seeking family who tends to just pack up and go if the weather is good or if Warrick's shift on the boat gets cancelled. We needed flexibility.
Here are our 16 golden rules of caravanning with kids. Share yours with our readers using the comments below.
1. Pull up at the local Visitor Information Centre
Did you know that the majority of tourism destinations had visitor information centres manned by local and experienced destination experts? Make sure you stop at the VIC on the way to your camp site to find out about the most scenic walks, the best playgrounds and many other activities that you can do at your destination. Grab the events calendar while you are at it. Don't forget to ask about the closest dump point and where you can get drinking water if you need to fill up your water tanks.
2. Establish a routine from day one
Routines help you get through the things that need to be done each day and help children feel safe and secure. Routines are especially important when the living environment changes very often, like when travelling on a big adventure around Australia.
Our routines are: wake up with the birdies, dance before breakfast, breakfast, morning nap for Celeste (it can be on the beach), lunch, afternoon nap for the girls, shower, iPad movie after 4pm, dinner, brushing teeth, bed with the birdies.
The Birdies routine
When living in our house, we used to go for a walk at dusk with the girls. They would watch the birds fall asleep on the branches when it got dark. This stuck and they understand they have to go to bed with the birds and wake up when the birds start singing. We find this works quite well in the caravan , except in the middle of summer in Queensland when the birds wake up at 4am as we don't have daylight savings.

3. Buckets all sorts
Small bucket
Take a bucket and a spade for each kid. Pack it in the car, the van and the pram. Take it e-ve-ry-where. They don't take much room, can hold the sunscreen and will keep your children occupied while you set-up camp or want to relax. Remember, buckets don't only hold sand but pebbles, water, grass, gravel and even flour (if you are that desperate!). They can also build pyramids.




Big bucket
Those silicon/soft plastic buckets are the best. We started with a round one and upgraded to a rectangular shape which takes less room. We even brought the kiddy-pool once.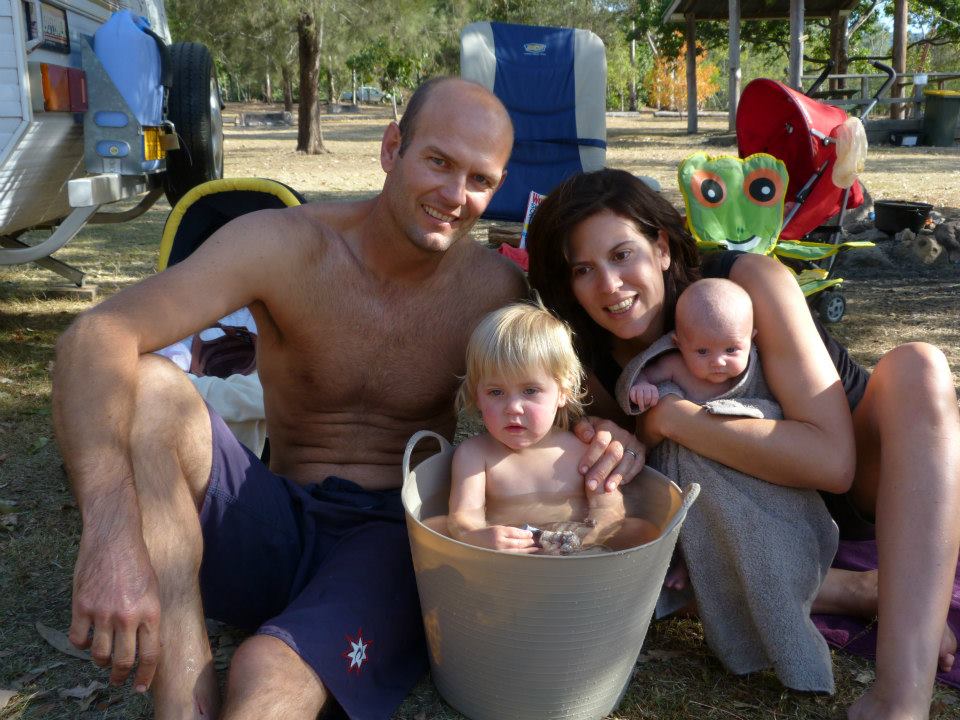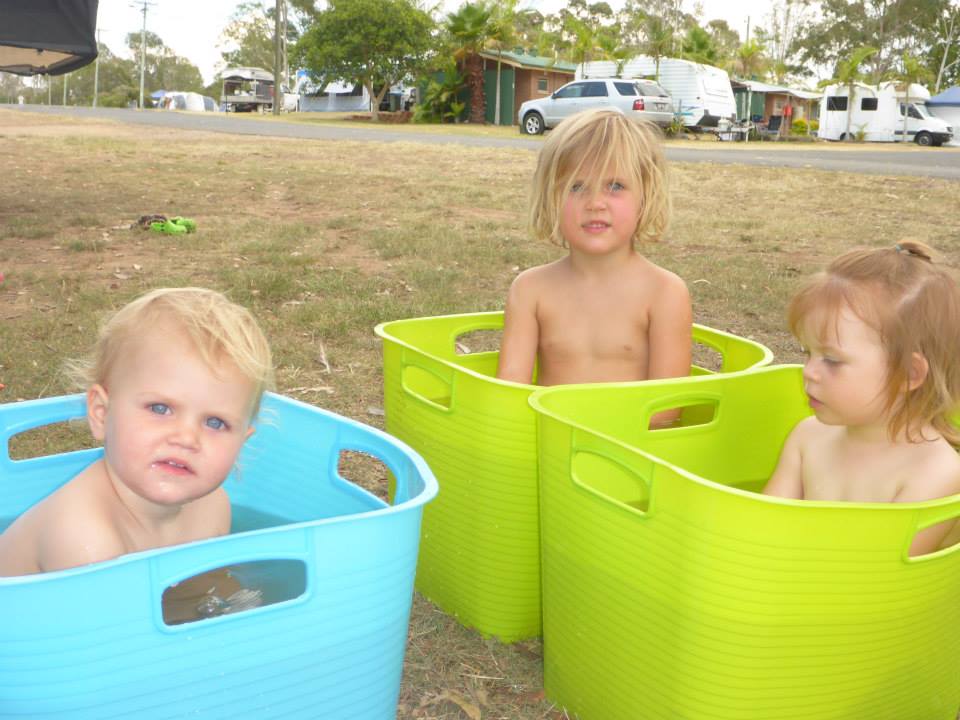 4. Be smart with the washing
Wash in the morning
Whether you have a washing machine in the van or use the campground's facilities, always aim to put some washing on before breakfast. Your load will be clean by breakfast, on the line by the time you head out for your first adventure and will be dry by the time you get back in the afternoon. If you don't wash until the afternoon it may not dry overnight and you may run out of clothes.
Wash every second day
No matter how hard you try, washing always piles up. We find we go through a load every 2 days. Leave it another day and that will be the day it rains. We religiously wash every 2nd day and haven't run out of clothes yet.
5. Sing & dance
We have downloaded a ton of children songs to the iPad for our morning dance routine. Dancing is good for exercising, creativity and it makes people happy. We place the iPad on the caravan's pic nic table, away from little hands, and the fun lasts for about 15 minutes.
6. IKEA highchair
Need I say more? It is light, 100% waterproof and the legs come off :).
Celeste (who is 20 months now) still uses it religiously. It also allows us to keep her safe (i.e. stops her from running on the road) when we cook dinner or get things ready to go on an excursion.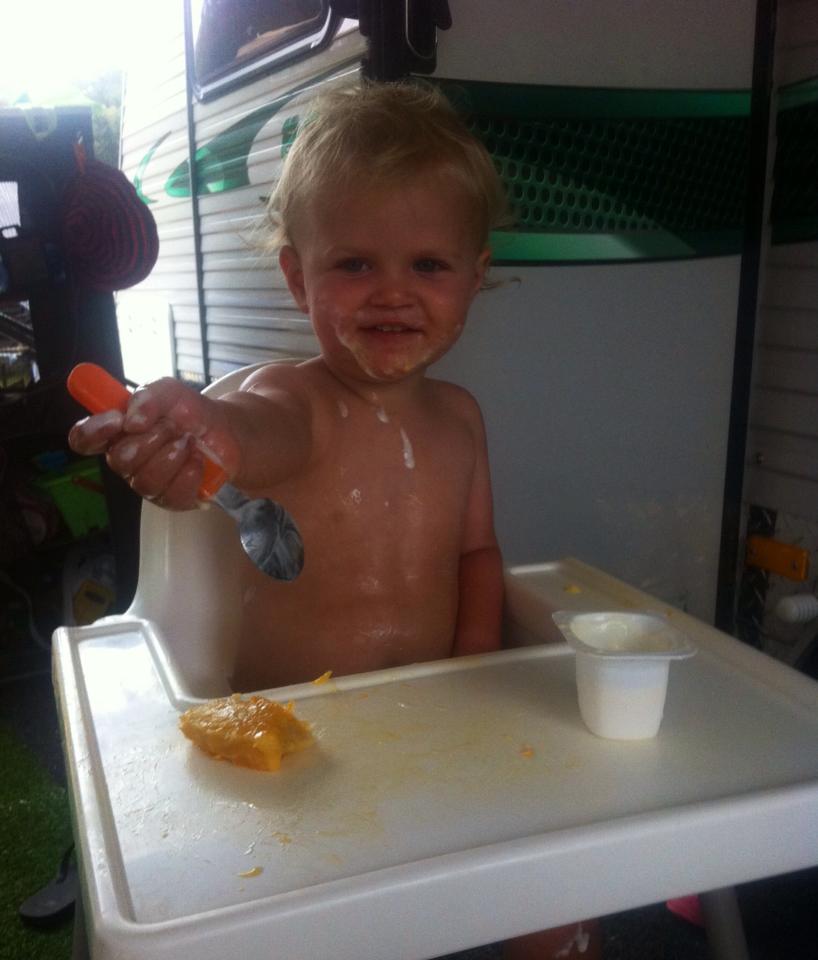 7. Meal plan
When you are on the move every week and don't know what you will find at your next destination, a weekly meal plan is your ally.
Plan
Sit down religiously once a week (e.g. we do it every Sunday night) and plan your dinners and ingredients for the next 7 days. If you are in a suburban area you can even place the grocery online and pick up the next day. Alternatively, just head to your local grocer. We use the 'Wunderlist' app on our iPhones to write down all the ingredients required. It syncs between both our phones so if one of us is in town they know what to get.
Lunches
Always cook your dinner for one extra adult and save that portion for lunch the next day. Add a few wraps, a tin of tuna, beans and/or a tomato and you have a healthy lunch for the family.
Below is a pic of the Malibu Waterski boat birthday cake that Warrick whipped up in the van for Charlotte's 3rd birthday.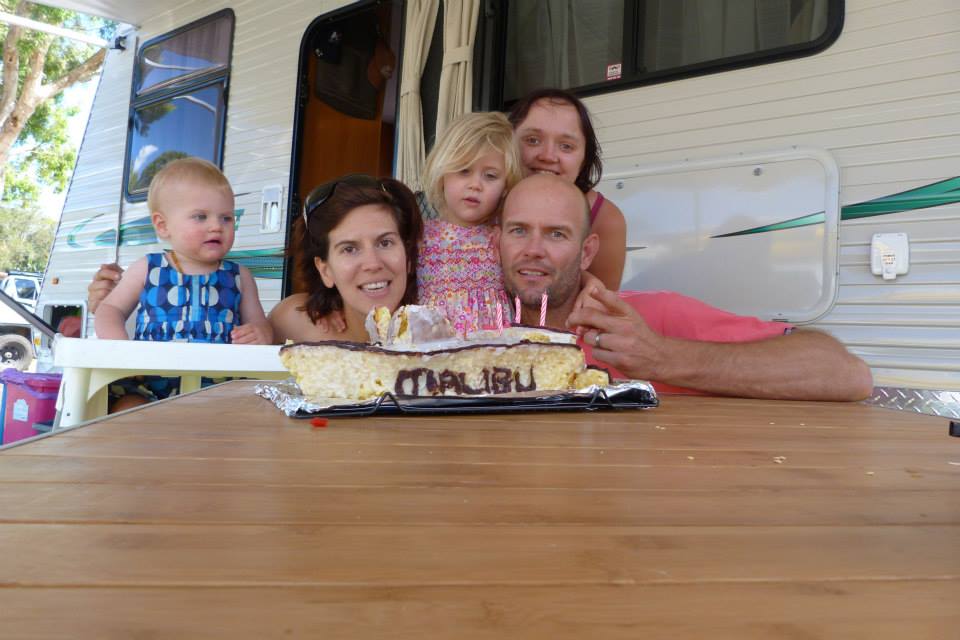 8. Five-minute microwave cake
We didn't even know they existed. Until our very good friends came for an impromptu BBQ dinner and we didn't have any dessert. Well, apart from that packet cake Warrick had bought just in case. I was about to send Warrick to the service station to get plain boring ice cream and melt some Lindt chocolate (we ALWAYS carry Lindt) when my friend pointed out to the microwave instructions on the packet cake! It was nice and moist and perfect for the occasion. We used the Classic Choc cake from Greens but I since learnt that many packet cakes can be baked in the microwave.
It also comes in handy if your girls bring their boyfriends back to the caravan for a bit of R&R.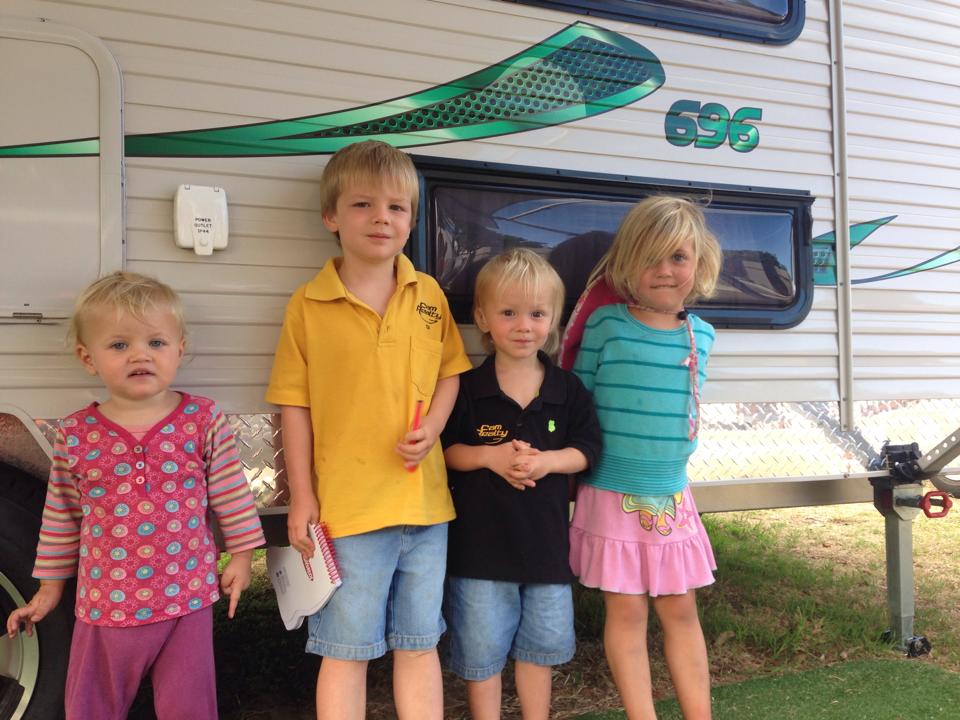 9. Waterproof mattress protector (waterproof fitted sheets)
Our girls still wear nappies at night. However, we use waterproof mattress protectors in their bunks as they still like to have a bottle of milk or water in bed.
When we decide to take the nappies off at night I will put 3 waterproof fitted sheets on top of one an other and if there is an accident in the middle of the night all I need to do is remove the wet sheet. (if you have ever made the bunk beds in a caravan you will know what I mean!)
10. Keep powdered milk
We usually have long life milk in the van as the kids still drink it a few times a day. However, there will be a time you run out of long-life one, trust me. Keep a small bag of powdered milk in the van for those occasions. It comes in quite handy as well if you are going on a hike and don't want to carry a litre of milk!
11. Never forget the Marshmallows
Going for coffee is normally a highlight and doesn't happen every day. On those occasions, a babycino should give you the 4 min of peace you require to read the headlines of the local newspaper. However, not all coffee shops stock the key ingredient to a satisfying babycino: marshmallows. You can buy mini-mashmallows from most convenience stores and always keep a few in a zip lock bag in your handbag!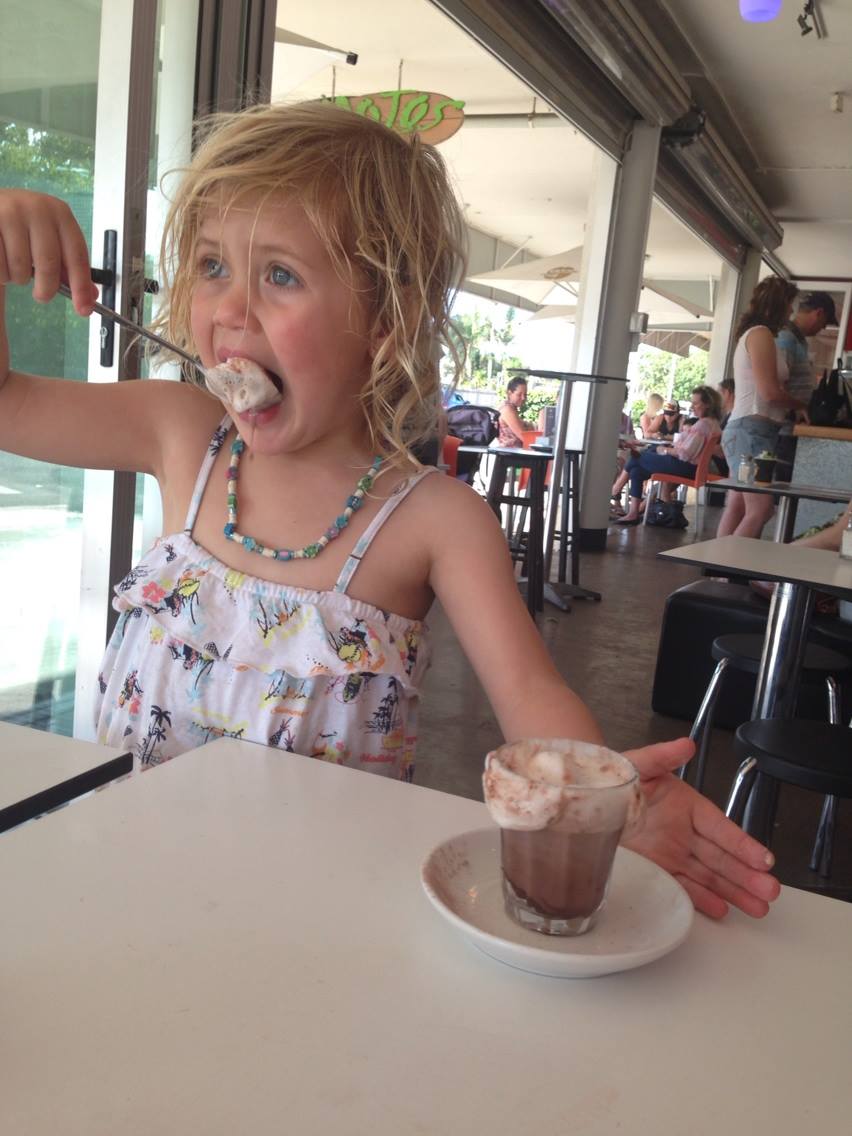 12. iPad movies to the rescue
4.30pm is normally crazy hour at the Wintles. Kids have been up for a good 10h, are exhausted from a day outdoors and dinner needs to be prepared. This is where your iPad, cleverly wrapped in a kiddy-proof case, becomes your weapon of choice.  We used a clever little program called Handbrake that allows you to convert DVDs into iPad (or any other device) friendly files. Once added to iTunes, you can synchronise them to your iPad et voilà.
Plonk the kids in their chairs outside with an apple each, the iPad on the Engel (perfect height) and start cooking dinner (or enjoy a cold beverage!).
13. Plan in advance
Book ahead
Travelling is all about freedom but cranky kids make adults cranky . What worked best for us is to research our next camp site a few days in advance (apps like WikiCamps are great for that) and head early in the morning. Most of the free camp sites are full by noon and if you have a long family van you may not fit on the last site available.
Involve the kids
Kids love to look at colourful books and Camps 7 is just that. Explain to them that you will be moving in a few days and that they should pack their toys early. Talk about the animals and sights they will come across at the new destination. When it's time to pack they will remember your discussion and won't be taken by surprise.
14. Don't forget to take photos!
Get up early and go and explore and pack your iPhone or camera. You never know what you will find.
We use our baby carriers everywhere (the ones on the 2 pics are called Mei Tai). Charlotte still fits in it perfectly and she weighs 15kg.
Warrick also made a baby swing which was quite handy when Celeste was a baby.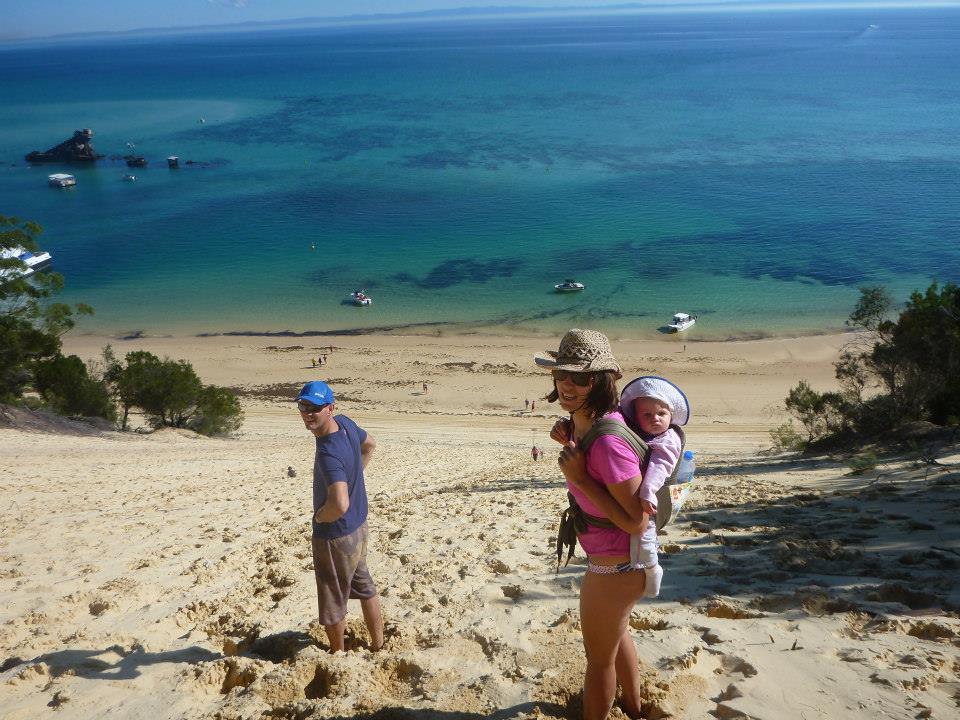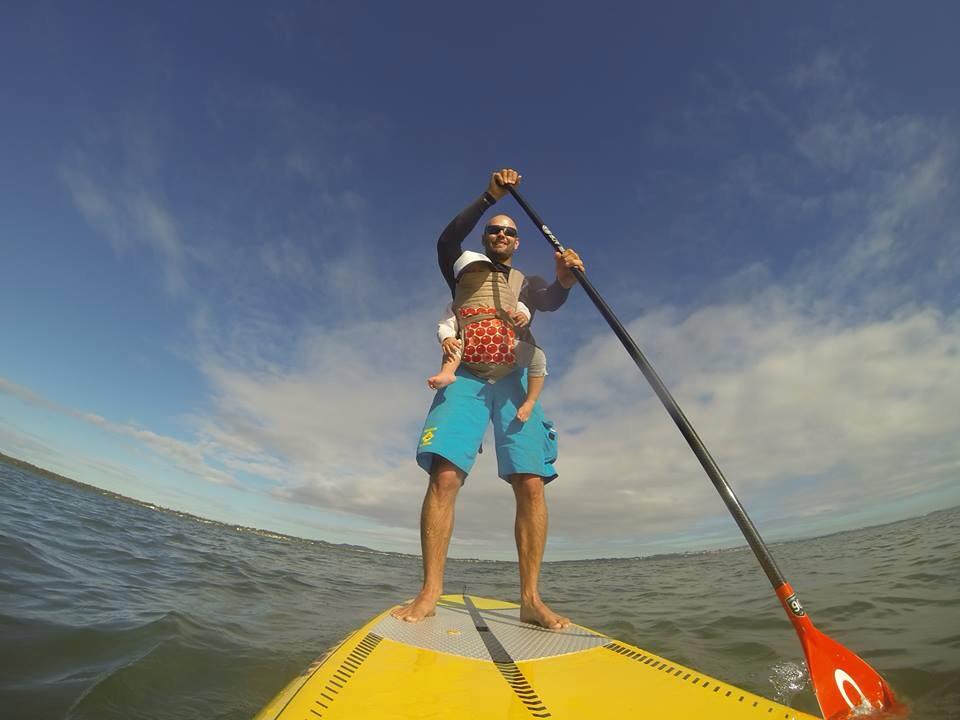 15. Be creative
Charlotte was born in autumn and we usually spend every summer weekend on the boat. We saw a baby swing for boats on the internet and Warrick decided to make our own, made of soft fabric. It suited us perfectly for many years.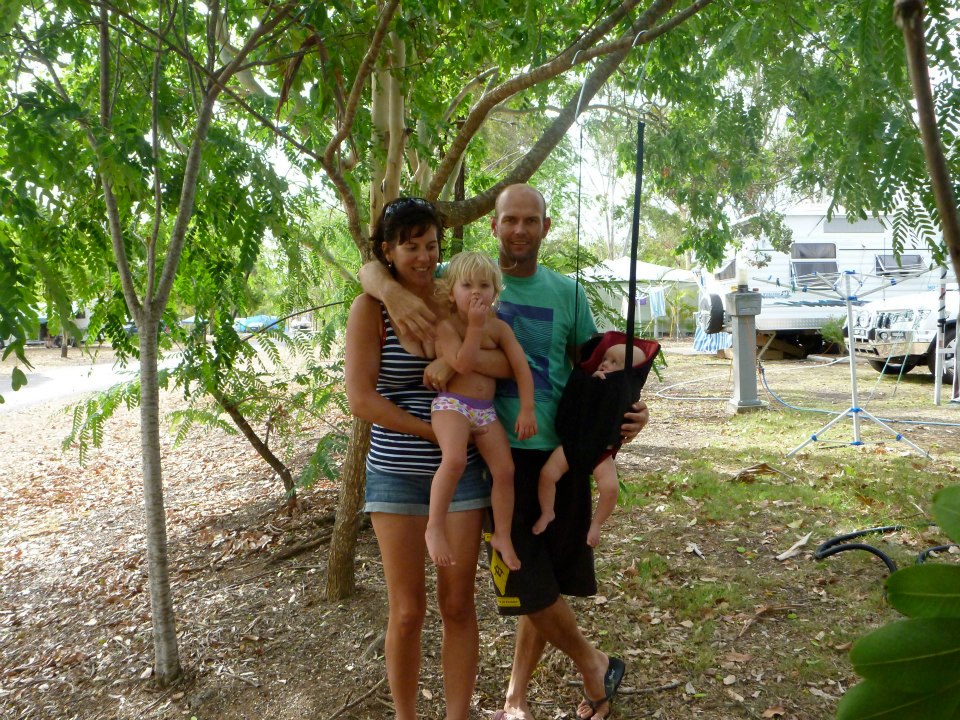 16. Share it with your friends
Seek help
Here is a funny story. When we just started caravanning, Fabie had to once tow the van on her own. She knew something wasn't looking quite right so she posted the below pic on Facebook before heading off (thank goodness). Can you tell what was wrong with the hook up?

Share the stories
Think of those in front of their computer all day looking for a little bit of distraction. Don't be cruel and share the love. It makes people happy and inspires them to travel.